Army Reserve could soon take on homeland security missions
Published 24 October 2011
The House and the Senate are currently debating legislation that would allow the Army Reserve to be deployed for homeland security missions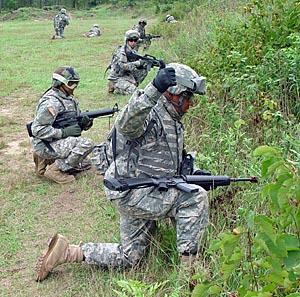 Army reservists in situational training // Source: army.mil
The House and the Senate are currently debating legislation that would allow the Army Reserve to be deployed for homeland security missions.
According to Lieutenant General Jack C. Stultz, the chief of the Army Reserve, the proposed law would authorize the government activate as many as 60,000 Reservists per year from all services for various missions both domestically and abroad.
"For homeland use, current law says you can only use your Title 10 Reserve in the homeland in instances of weapons of mass destruction," Stultz said.
Stultz was careful to note that the Army Reserve was not trying to replace the National Guard and that both the National Governors Association and the National Guard Association supported the change.
"There should be a logical progression, just like there is now, where local civil authorities respond, then the governor calls up the National Guard — and in 90 percent of the cases that's all that's needed — but in that other 10 percent where the state needs federal help, we'd be available with a lot of needed expertise," Stultz said.
The Army Reserve is also seeking to change the Title 10 to allow it to support operations that are usually ninety to 120 day long deployments, giving each Reserve commander the ability to send one unit for the entire duration of the operation rather than having to send two or three units to man the full length of the deployment.
In addition, Stultz said he was looking to create an operational reserve of about 25,000 soldiers to ensure four years of dwell time for every year deployed.
Currently, units have about forty-two months of dwell time for roughly twelve months spent downrange.