Disasters

Developing prototype for early warning quake system

Published 16 December 2011

In an effort to help catalyze the creation of an early warning earthquake system along the West Coast, the Gordon and Betty Moore Foundation recently awarded $6 million to three universities in the quake prone region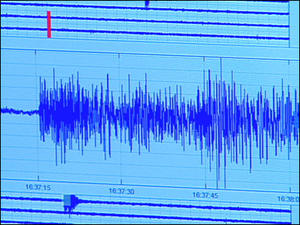 Work toward an early warning system requires reviewing existing seismological data // Source: komonews.com
In an effort to help catalyze the creation of an early warning earthquake system along the West Coast, the Gordon and Betty Moore Foundation recently awarded $6 million to three universities in the quake prone region.
UC Berkeley, the University of Washington Seattle, and Caltech each received $2 million over the course of three years to begin efforts to develop a prototype of ShakeAlert, a sophisticated system that would send out an alarm seconds before an earthquake hit.
"The Gordon and Betty Moore Foundation is funding this basic, fundamental science to yield an earthquake early warning prototype that we hope will pave the way for a fully functioning system in the Western U.S.," saidCyndi Atherton, the director for science programs at the foundation. "A warning system has the potential to save thousands of lives and millions of dollars in the event of an earthquake, and we feel it is important to resolve any scientific questions that could stand in the way of implementing such a system."
According to Richard Allen, an associate professor of earth and planetary sciences at UC Berkeleyand the lead investigator for the project, an early warning system could give people several seconds or even a few minutes to prepare for a major earthquake.
A few seconds may not sound like a lot of time, but it is enough to allow train operators to slow down so they do not derail, air traffic controllers to stop planes from landing or taking off, and critical machine operators to shut down dangerous equipment.
Prior to earthquakes, P-waves travel along the ground first, and by studying these, researchers have been able to determine the magnitude of an impending quake seconds before it hits.
Allen said implementing a notification system along the West Coast would require roughly $150 million over five years.
Currently Japan, Mexico and even Romania, have early earthquake warning systems thanks to government funding, but so far neither the state nor federal government has made moves to help finance a U.S. system, which is still in its early phases of development.
"When you look across the world and see how few nations have an earthquake warning system, we feel it is almost criminal the U.S. doesn't have one," Atherton said.
"The technology and scientific expertise exist to create a sophisticated West Coast earthquake early warning system even more advanced than Japan's now four-year-old system, which functioned well after the magnitude 9.0 Tohoku quake earlier this year," said Allen.
Currently there are about 400 sensors distributed across California as part of a prototype advanced warning system, but Allen said the system still needs to be improved so that it can effectively notify residents in the event of a 7.0 magnitude earthquake or greater.
Based on the 2008 Uniform California Earthquake Rupture Forecast, there is a 66 percent chance that a 6.7 magnitude earthquake or greater will hit the Bay Area in the next thirty years.