Fake ID app

Lawmaker targets fake ID smartphone app

Published 22 December 2011

With the "License" app for Apple iPhones and iPads, making a realistic fake ID has never been easier; to prevent this app from falling into the wrong hands that would use it for nefarious purposes, Senator Bob Casey (D — Pennsylvania) recently requested that Apple remove the app from its online store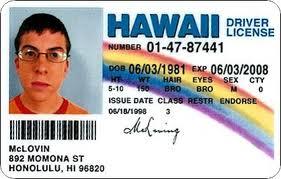 Driver's liscense created with the "License" app // Source: sicknight.com
With the "License" app for Apple iPhones and iPads, making a realistic fake ID has never been easier.
Individuals need only to snap a digital photo of themselves and insert their biographic information and the app will create a driver's license for any of the fifty states. The app maintains templates for all fifty states and many of the designs are so up to date that they will be valid for the next several years.
When finished designing the fake ID, users can email a high-quality digital version of the template that can be printed and laminated, yielding a realistic driver's license that is difficult to discern from a fake.
To prevent this app from falling into hands of criminals or terrorists that would use it for nefarious purposes, Senator Bob Casey (D – Pennsylvania) recently requested that Apple remove the app from its online store.
In a letter to Tim Cook, the new CEO of Apple, Senator Casey wrote, "I believe this application poses a threat to public safety and national security…it can be used in a way that allows criminals to create a new identity, steal someone else's identity, or permit underage youth to purchase alcohol or tobacco illegally."
Casey added, "National security systems depend on the trustworthiness of driver's licenses, yet with a counterfeit license created by the app, a terrorist could bypass identity verification by the Transportation Security Administration, or even apply for a passport."
Brian Zimmer, the president of the Coalition for Secure Driver's License, welcomed Casey's letter.
"I applaud Senator Casey's efforts. Apple has a responsibility to its users to ensure that its technology does not facilitate crime. Counterfeit driver's licenses are not novelties. They present a very real risk to public safety and national security. Apple should have had measures in place to prevent the 'License' application from ever making it to the App Store," Zimmer said.
"Apple Corporation's lack of action to pull this application when I first notified them in April, 2011, of its risk to public safety was dismaying," he added. Apple should establish a careful policy of reviewing applications for the App Store that might lead to a child's injury through inappropriate use. The License App presents a clear risk to public safety."
In April Zimmer sent a letter to Scott Forstall, Apple's senior vice president for iPhone Software, in which he expressed his concern's that the license app could be used by criminals to commit credit card fraud or terrorists to obtain a U.S. passport.
Zimmer hopes that Apple moves quickly to remove the app as during the holiday season fraud is easier to commit with merchants overwhelmed by crowds, leaving little time to carefully examine driver's licenses.
"It's entirely possible that some criminals are currently using the application to rip off stores," he said.