Santa Claus: the believers - II

NORAD is ready to track Santa's flight

Published 23 December 2011

The North American Aerospace Defense Command is getting ready to track Santa's yuletide journey. The NORAD Tracks Santa Web site went live the other day featuring a Countdown Calendar, a Kid's Countdown Village complete with holiday games and activities that change daily, and video messages from students and troops from around the world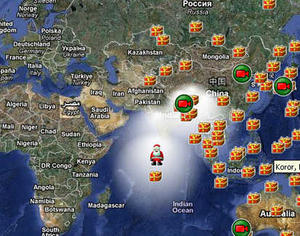 NORAD will display Santa's current location along with visited sites // Source: modbee.com
The North American Aerospace Defense Command is getting ready to track Santa's yuletide journey. The NORAD Tracks Santa Web site went live the other day featuring a Countdown Calendar, a Kid's Countdown Village complete with holiday games and activities that change daily, and video messages from students and troops from around the world. With the addition of Brazilian Portuguese, the Web site is now available in eight languages: English, French, Spanish, German, Italian, Japanese, Brazilian Portuguese, and Chinese.
A NORAD release reports that this year, using free apps in the Apple iTunes Store and in the Android Market, parents and children can countdown the days until Santa's take off on their smart phones. Tracking opportunities are also offered on Facebook, Google+, YouTube, and Twitter. Santa followers just need to type "@noradsanta" into each search engine to get started.
The U.S. Air Force (USAF) uses ground based radars, National Oceanic and Atmospheric Administration (NOAA) operational satellites provided by NASA Goddard Space Flight Center, as well as Santa Cams, Google maps, and jet fighter aircraft.
The NORAD release notes that Global Positioning System (GPS) satellite information and carefully timed gravity assists from the sun, moon, and Earth are used to speed Santa's sleigh faster and more precisely than ever before.
Multi-variable numerical modeling improvements in the solar wind, auroras, geomagnetic force fields, and space/Earth weather predictions are also being credited for important improved sleigh routing efficiencies. Rudolph (the red-nosed lead reindeer) provides a great infrared (warm) signature for the satellite instruments to focus on.
Starting at midnight MST on 24 December, Web site visitors can watch Santa as he makes all the preparations for his flight. Then, at 4 a.m. MST (6 a.m. EST), trackers worldwide can talk to a live phone operator to inquire about Santa's whereabouts by dialing the toll-free number 1-877-Hi-NORAD (1-877-446-6723) or by sending an e-mail to noradtrackssanta@gmail.com. NORAD's "Santa Cams" will also stream videos as Santa makes his way over various locations worldwide.
NORAD Tracks Santa has become a global experience, delighting generations of families everywhere. It all started in 1955 when a local media ad directed kids to call Santa direct — only the number was misprinted.
Instead of reaching Santa, the phone rang through to the Crew Commander on duty at the Continental Air Defense Command Operations Center. Thus began the tradition which NORAD has carried on since it was created in 1958.