Water

Collecting rainwater could save U.S. residents $90 million a year

Published 21 February 2012

Simply collecting rainwater could save U.S. residents millions of dollars each year on their water bills and drastically cut down on water consumption; a new study by the Natural Resources Defense Council examined the potential cost-savings in eight U.S. cities and found that residents could collectively save $90 million or more annually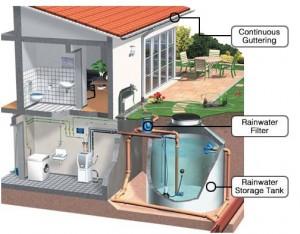 One of many workable schemes to collect and reuse rainwater // Source: terracites.fr
Simply collecting rainwater could save U.S. residents millions of dollars each year on their water bills and drastically cut down on water consumption.
A new study by the Natural Resources Defense Council examined the potential cost-savings in eight U.S. cities and found that residents could collectively save $90 million or more annually.
With population growth and climate change placing an even greater pressure on existing water supplies, urban rooftop rainwater collection could help mitigate shortages and price spikes in the future. Simple rainwater basins placed on roofs in urban environments could address nearly 80 percent of daily residential water usage for things like washing clothes and flushing toilets.
"Even under conservative assumptions, the study demonstrates that each city modeled can capture hundreds of millions to billions of gallons of rainwater each year, equivalent to the total annual water use of tens to hundreds of thousands of residents," the report concluded.
Each day more than 44 billion gallons of freshwater are used, but much of the treated water is spent on tasks that do not require expensive, energy-intensive potable water. For instance, more than 11 percent of residential and 25 percent of commercial drinking water – more than 2 trillion gallons a year – is used to flush toilets.
In addition the report found that rooftop collection can also help improve water quality in the surrounding metropolitan area by minimizing excess storm water runoff filled with sewage, toxins, and chemicals from sidewalks from flowing into rivers and streams.
Rooftop rainwater collection is an uncommon practice due to complex local laws that regulate the use of non-potable indoor water usage.
The report argues that simply adjusting local laws for water usage, rainwater collection could become a cheap and easy way to reduce water consumption and minimize the effects of climate change.