Protecting NYC

New book discusses storm surge protection for New York City

Published 14 November 2012

A new book from American Society of Civil Engineers (ASCE), to be published on 3 December, includes sixteen papers exploring the development of storm surge barriers to protect New York City and nearby New Jersey from the effects of a future deluge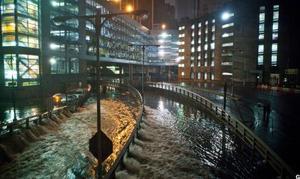 Hurricane Sandy's storm surge washes over NY's financial district // Source: samalkhot.com
A new book from American Society of Civil Engineers (ASCE), to be published on 3 December, includes sixteen papers exploring the development of storm surge barriers to protect New York City and nearby New Jersey from the effects of a future deluge.
The book is titled Storm Surge Barriers to Protect New York City: Against the Deluge. It is edited by by Douglas Hill, Eng.Sci.D., P.E.; Malcolm J. Bowman, Ph.D., P.E., and Jagtar S. Khinda, P.D., P.E.
The book discusses mitigating the effects of a hurricane, but also explores how rising sea levels may require protection for the city from what are now minor surges. The papers included provide a foundation for the scientific and engineering research necessary to evaluate the barrier concept and explore options for its design and execution.
Topics include modeling simulation and estimated effects of wind and storm surges; hydrologic feasibility; regulatory issues; ecological and climate issues; geotechnical issues; navigability; and design concepts for barriers at the East River, Verrazano Narrows, Arthur Kill, and Outer Harbor Gateway.
The book is an outgrowth of the conference "Against the Deluge: Storm Surge Barriers to Protect New York City," which was held in Brooklyn, New York, 30-31 March 2009. The conference was sponsored by the Infrastructure Group of the Metropolitan Section of ASCE; the Environmental Sciences Section of the New York Academy of Sciences; and the Department of Civil Engineering, Polytechnic Institute of New York University.