Disasters

Tents provide disaster victims with shelter – and a measure of privacy

Published 28 November 2012

A charity called ShelterBox gives out tents and other essential equipment to victims of war and natural disasters around the world; the lightweight tents the charity provides can withstand winds of up to sixty-two miles per hour; the charity also provides thermal blankets, stoves, pans, utensils, tool-kits, and even crayons for children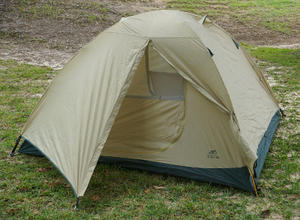 ShadowBox tents provide shelter and privacy with quick response // Source: shsu.edu
Sallie Buck knew of the devastation that hit Chile in 2010 after an earthquake and a tsunami left the country in shambles, but when she saw it firsthand, it was a whole new experience.
"I'd never witnessed anything like it in my life," Buck told theTelegraph. "There was an area that looked like a big beach but, actually, there used to be houses there. A lady told me that, early in the morning, a big wave had come and engulfed her house. So, I asked: 'Where is your house now?' And about 100 meters down the beach was this pile of plywood. That was her house.
"All that remained were two rows of flowers that used to lead up to her front door."
At the time Buck, a nurse practitioner, was doing light work for a charity called ShelterBox, an organization that gives out tents and other essential equipment to victims of war and natural disasters.
ShelterBox is still a largely unknown charity. The lightweight tents the charity provides can withstand winds of up to sixty-two miles per hour. The charity also provides thermal blankets, stoves, pans, utensils, tool-kits, and even crayons for children.
When Buck realized she was needed in Chile, it did not take her long to get ready for the task.
"There was no time to dwell on the terrible things we were seeing," Buck told the Telegraph. "Afterwards, of course, you think, 'My God that was awful', but at the time you just get on with it and do as much as you can."
In the following weeks, Buck and other members of ShelterBox delivered equipment in 400 of the charity's trademark green boxes to remote communities in Chile. Each box weighed 120 pounds making it difficult at times to get the boxes to those who needed it most.
"A Chilean charity and local Rotarians provided us with drivers and translators, and we used whatever we could to deliver the boxes – lorries, sprinter vans, flatbed trucks," Buck told the Telegraph. "Every time the road wasn't passable, we found another way around."
For some people the sight of ShelterBox members coming to help was as shocking as the sight of their homes being gone after the earthquake and tsunami caused.
"I remember one elderly couple whose house had been flattened; the only thing left standing was their kitchen," Buck said. "They must have been in their eighties and had been sleeping out in the open.