Syria

U.S. Defense Secretary signs order to deploy anti-missile units in Turkey

Published 17 December 2012

Secretary of Defense Leon Panetta on Friday signed an official deployment order to send 400 American military personnel as well as two Patriot air defense units to Turkey as the cross-border tensions between Turkey and Syria have increased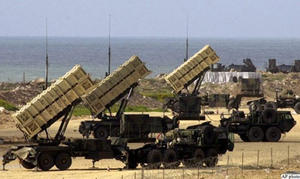 Turkey receives Patriot anti-missile systems // Source: guancha.cn
Secretary of Defense Leon Panetta on Friday signed an official deployment order to send 400 American military personnel as well as two Patriot air defense units to Turkey as the cross-border tensions between Turkey and Syria have increased.
The New York Times reports that the American Patriot batteries will be part of a broader deployment of missile defenses along the Turkey-Syria border, with two additional batteries being sent from Germany and two from the Netherlands..
The Patriot batteries and the military personnel are the most public action the United States has taken to help the Syrian conflict. Away from the public eye, the United States has been actively helping in training anti-regime rebels in baese in Jordan and Turkey, and U.S. intelligence operatives have been active e on the ground in Syria in monitoring rebel groups to identify jihadist influence and in keeping an eye on Syria's chemical weapons production and storage facilities.
Turkey, a NATO member, is currently housing more than 100,000 Syrian refugees and is also providing military aid to the Syrian rebels trying to defeat President Bashar al-Assad.
The six Patriot batteries and their personnel will work under NATO command and are scheduled to be operational by the end of January, according to officials in Washington. The 400 U.S. soldiers will arrive in Turkey in the coming weeks.