Newtown school shooting

Connection between goth subculture, mass shootings appears tenuous

Published 18 December 2012

Classmates of the otherwise bland and elusive Adam Lanza, who last Friday killed twenty children and six adults at the Sandy Hook school in Newton, Connecticut, described him as "goth"; is there a "goth" connection in the Newtown school shooting? The question is asked because news reports have connected several perpetrators of both mass shooting and killing on a smaller scale to goth culture; a closer examination shows that the relationship between goth and mass shooting is tenuous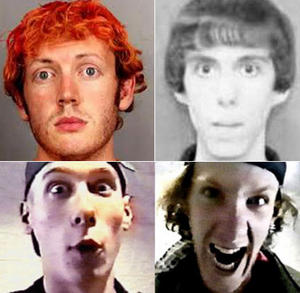 Clockwise from top left: James Holmes, Adam Lanza, Dylan Klebold, Eric Harris // Source: Composite HSNW
Classmates of the otherwise bland and elusive Adam Lanza, who last Friday killed twenty children and six adults at the Sandy Hook Elementary school in Newton, Connecticut, described him as "goth."
Is there a "goth" connection in the Newtown school shooting? The question is asked because news reports have connected several perpetrators of both mass shooting and killing on a smaller scale to goth culture.
What is goth? The 1980s goth culture grew out of the post-Punk movement and underwent a revival in the mid-1990s. In the the early 1980s, the gothic subculture, or "goth," has risen along with the popularity of "hard rock" music. It was not only music: more and more teens and kids were sporting Mohawks, wearing oversized black clothing, heavy dark makeup, and other materials that made them stand out from the crowd.
As the New Scientist notes, central to goth belief is the black aesthetic — taking icons that society regards as evil, such as skull imagery, and making them beautiful.
Music played a big part in the goth culture, as disco music started to fade and rock music became more prevalent among teenagers. Some saw a dark side in that music, and Bands such as Kiss and the Sex Pistols were blamed for making satanic and occult music.
Other artists have been associated with goth, among them Marilyn Manson, Ozzy Osborne, and their music has elements of gothic rock. Many in the gothic music industry, including Mick Mercer, an English music journalist who has spent years in the goth, punk, and indie music scenes, would not connect these bands directly to gothic subculture.
Mercer was once asked about the Kimveer Gill, a Canadian who, in September 2006, killed one student and injured nineteen others at Dawson College in Quebec. Gill was labeled a goth by the media after the incident and listed Manson and Osborne among his favorite bands on his Vampirefreaks.com profile.
"Not a Goth. Never a Goth. The bands he listed as his chosen form of ear-bashing were relentlessly metal and standard grunge, rock and goth metal, with some industrial presence," Mercer said. "Kimveer Gill listened to metal….he had nothing whatsoever to do with Goth," Mercer wrote on his Livejournal.com page. "I realize that like many Neos, Kimveer Gill may even have believed he somehow was a Goth, because they're only really noted for spectacularly missing the point."