Disasters

Winter storm hits Midwest, heading toward Northeast

Published 27 December 2012

A powerful winter storm system hit the U.S. Midwest Wednesday, heading toward the states of the Northeast, where high winds and heavy snow have disrupted holiday travel, left tens of thousands without power, and were blamed in at least six deaths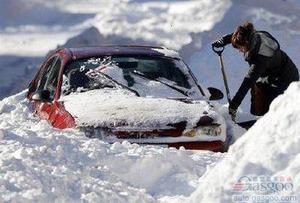 WInter storm pummels the midwest U.S. // Source: ifeng.com
A powerful winter storm system hit the U.S. Midwest Wednesday, heading toward the states of the Northeast, where high winds and heavy snow have disrupted holiday travel, left tens of thousands without power, and were blamed in at least six deaths.
Nearly 2,000 flights were canceled or delayed, and motorists were stranded on roads blocked by ice and snow.
John Kwiatkowski, a meteorologist with the National Weather Service in Indianapolis, told Fox News that "The way I've been describing it is as a low-end blizzard, but that's sort of like saying a small Tyrannosaurus rex," said.
The weather system, which triggered tornadoes in the Gulf Coast region on Christmas Day and a historic amount of snow in Arkansas, pushed through the Upper Ohio Valley and headed toward the Northeast. Forecasts predicted between twelve and eighteen inches of snow inland from western New York to Maine starting late Wednesday and into Thursday, turning into a mix of rain and snow closer to the coast, where little accumulation was expected in such cities as New York and Boston.
By Wednesday night, the National Weather Service reported up to a foot of snow in some Pennsylvania counties. A mix of snow, sleet and rain accompanied by high winds had arrived in western Massachusetts.
The situation was not better down south. The Weather Service reported thirty-four tornadoes were reported in Texas, Louisiana, Mississippi, and Alabama during Tuesday's outbreak. The storms left more than 100,000 in the region without power.