Search and rescue

Autonomous drones to help in search and rescue, disaster relief

Published 16 January 2014

Research could soon enable unmanned aerial vehicles (UAVs) to track down missing persons on search-and-rescue missions, to penetrate curtains of smoke during wildfire suppression, or possibly even to navigate urban landscapes on delivery runs for online retailers like Amazon. It all could be done autonomously with a human acting only as a supervisor. "Drones have gotten a very bad rap for various reasons," says Kelly Cohen, associate professor of aerospace engineering and engineering mechanics at the University of Cincinnati. "But our students see that unmanned systems can have a positive impact on society."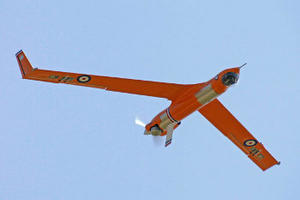 This Boeing-built UAV is specifically designed for search and rescue applications // Source: boeing.com
In the not too distant future, you may hear the hum of a drone's rotors as it descends upon you and be filled with a sense of relief, not panic. After all, it is coming to save you, not harm you.
Research at the University of Cincinnati could soon enable unmanned aerial vehicles (UAV) — similar to U.S. military drones patrolling the skies of Afghanistan — to track down missing persons on search-and-rescue missions, to penetrate curtains of smoke during wildfire suppression, or possibly even to navigate urban landscapes on delivery runs for online retailers like Amazon. It all could be done autonomously with a human acting only as a supervisor.
"Drones have gotten a very bad rap for various reasons," says Kelly Cohen, associate professor of aerospace engineering and engineering mechanics at UC. "But our students see that unmanned systems can have a positive impact on society."
A University of Cincinnati release reports that Cohen and a team of researchers have developed an experimental capability to capture the dynamic behavior of the UAV platform, which complements other work they have done with UAVs in disaster management operations. Wei Wei, one of Cohen's students and the lead author of "Frequency-Domain System Identification and Simulation of a Quadrotor Controller," will present the UAV dynamics research today (16 January) at the American Institute of Aeronautics and Astronautics' SciTech 2014 conference in National Harbor, Maryland. The event unites international aerospace scholars and professionals to collaborate on advances in research, development and technology.
In his research, Wei used special engineering software to develop the dynamic model essential for autopilot design for a wide variety of unmanned aircraft having multiple rotors. He has applied his method to quadrotors — UAVs with four propellers — and other types of drones, but it can work with nearly any aircraft.
Plus, Cohen says there is nothing on the market today like Wei's system because of its low cost and fast, highly accurate results. Cincinnati-based entrepreneur Steve Burns is already working with UC on a concept vehicle using Wei's simulations, through a recent University of Cincinnati Research Institute (UCRI) contract.
"A selling point for this configuration is its efficiency, in both time and money, and the accuracy," Wei says. "We're already proving it using flight-test data, and it has matched nearly perfectly. This would enable not only quadrotors, but any flying objects to operate on autopilot."
First responders see advantages to drones
Wei's research