Travel ban

Immigration bans tend to create unintended consequences

Research of various measures to restrict immigration — a policy response common for countries that have experienced terrorist attacks in the past — has pointed to unintended long-term consequences of similar controls on immigration. "Some recent research shows that umbrella restrictions on migration control can backfire," says one researcher. "Instead of mitigating radicalization, these restrictions tend to have blowback effects. Insofar as the ban against a set of states is an umbrella ban, it's likely to have the same unintended negative effects."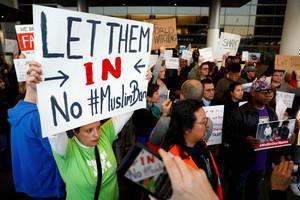 Protesters at one of several U.S. airports // Source: theconversation.com
Nazli Avdan, a KU assistant professor of political science, said that research of various measures to restrict immigration — a policy response common for countries that have experienced terrorist attacks in the past — has pointed to unintended long-term consequences of similar controls on immigration. "Some recent research shows that umbrella restrictions on migration control can backfire," she said. "Instead of mitigating radicalization, these restrictions tend to have blowback effects. Insofar as the ban against a set of states is an umbrella ban, it's likely to have the same unintended negative effects."
KU notes that Avdan, in a 2014 study, found that European states that experienced a terrorist attack on their own soil since 1980 were less likely to grant asylum to refugees.
"Namely, the societal landscape shifts toward the right. More populist leaders garner more support," she said. "The United States fits this trend in the sense of a turn to populism as a panacea against a range of grievances. Typically, populist leaders lump together a range of threats — from crime, to illegal migration, to terrorism, to political migration — under the same umbrella and emphasizes that these threats arise from poor border security and migration."
However, she said the negative attention and legal challenges to the initial executive order indicated poor planning and the end result will likely create uncertainty and trepidation about traveling to the United States — which could influence business and legal migration as well, such as people not on the list who might still cancel travel plans for work and tourism.
In the long-term it could also add other elements in trying to combat the Islamic State, she said.
"Scapegoating merely provides more fodder for terrorist groups to disseminate propaganda," Avdan said. "Within the United States, it's likely to lead to more polarization, and equally perilously, force some immigrants to question their belonging. Outside of the United States, it inadvertently aids terrorist propaganda."