European extremists

German populist, far-right party fails to bar scholar from criticizing it

A court in Dresden, Germany, earlier today (Friday) dismissed a law suit against Steffen Kailitz, a well-known political scientist, bringing to an end months of legal skirmish over comments he made about the populist, far-right National Democratic Party (NPD). NPD officials had asked the court to issue an injunction to block Kailitz from saying that the party planned racially motivated crimes against the state." Kailitz, in an article last April, also wrote that the NPD wants to "expel 8 to 11 million people from Germany, including several million German nationals with immigrant backgrounds."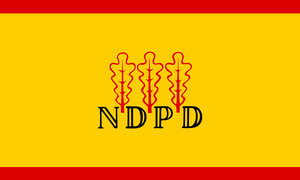 Flag of the NPD // Source: commons.wikimedia.org
A court in Dresden, Germany, earlier today (Friday) dismissed a law suit against Steffen Kailitz, a well-known political scientist, bringing to an end months of legal skirmish over comments he made about the populist, far-right National Democratic Party (NPD). NPD officials had asked the court to issue an injunction to block Kailitz from saying that the party planned "rassistisch motivierte Staatsverbrechen" ("racially motivated crimes against the state.")
Kailitz, a respected scholar of totalitarianism and right-wing extremism at the Hannah Arendt Institute, made the comments in an article he wrote for German newspaper Die Zeit last April.
FAZ reports that he also wrote that the NPD wants to "expel 8 to 11 million people from Germany, including several million German nationals with immigrant backgrounds."
The court ruled that Kailitz' comments were protected under freedom of expression, adding that his arguments were a matter of opinion.
"A statement of opinion is not examined for its truthfulness," presiding Judge Christoph Wittenstein said.
The NPD was already upset by Kailitz because of his expert testimony in the recent German Constitutional Court case addressing the question of whether or not to ban the NPD.
FAZ notes that in May 2016, another judge in Dresden caused a storm when he ruled in favor of the NPD.
Judge Jens Maier, himself a senior member of the Alternative for Germany (AfD), another populist, anti-immigration, far-right party, agreed with the NPD's application and issued a temporary injunction against Kailitz in May 2016.
The injunction barred Kailitz from repeating his comments on the NPD — or facing a €250,000 fine and six months in jail.
Responding to the public outcry, Maier, in October, persuaded the NPD to withdraw its initial suit – but other officials of the NPD initiated another legal proceeding against Kailitz in a different court.
Maier's ruling drew attention to his political leaning – and to controversial comments he made on hot topics. For example, in a speech last year he said that it was a mistake to allow the "creation of mixed peoples," and declared that Germany's unjustified, Holocaust-related "culture of guilt" as over.
Last Friday, Maier said he "understood" Norwegian Anders Breivik who, in 2011, killed 69 teenagers and 8 adults, claiming he was defending Norway against "Islam and cultural Marxism."
Maier's political views have led the state court in Dresden earlier this year to bar Maier from presiding over press law and libel cases.