Hate groups

Normalizing white nationalist hate

Published 23 October 2017

A panel of experts met last week at Harvard University's Kennedy School (HKS) to examine the U.S. white nationalist movement's rise to prominence and discuss ways to counter it. One panelist was R. Derek Black, a former white nationalist activist whose father, Don Black, created Stormfront, the internet's first and largest white nationalist site. When the moderator asked whether white nationalists tended to be seen as "people from Alabama," Black replied that most of the stereotypes are inaccurate. "There's a strange misconception that it's a trailer park movement, or that it's people who haven't thought through their beliefs. But think about it. Who has the resources to travel across the country for rallies? It's not a wealthy movement, but it's bankers, lawyers, people with good jobs."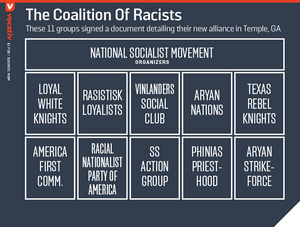 Coalition of white nationalist groups // Source: yahoo.com
A panel of experts met last week at Harvard University's Kennedy School (HKS) to examine the U.S. white nationalist movement's rise to prominence and discuss ways to counter it.
The evening began with two video clips from the online magazine Vice that were familiar, but still unsettling. One was of white nationalists chanting an anti-Semitic slogan at a rally in Charlottesville, Va. The other was an interview with a rally organizer, who made hateful statements about the late Trayvon Martin and President Trump's Jewish son-in-law.
The interviewer in those clips, former New Republic senior editor Elle Reeve, was at the Kennedy School (HKS) on Wednesday to moderate the Institute of Politics panel "'I'm Not a Racist, But'… Examining the White Nationalist Efforts to Normalize Hate." Brett Milano of the Harvard Gzzette reports that the two panelists, R. Derek Black, a former white nationalist activist and current graduate student in history, and Khalil Muhammad, professor of history, race, and public policy at HKS, presented fresh perspectives on how the movement gained prominence, and whether the growth of racial hate can be reversed.
Black pointed out early in the talk that "white nationalist" is a term that the movement itself prefers to "white supremacist," though the philosophies are not far apart. "Their explicit goal is that they want the country to be 100 percent white, and they always claim that by separating everybody they'll get rid of racism. But there is no way to say that you want to separate the races, and not be rooted in the idea of white supremacy."
When Reeve asked whether white nationalists tended to be seen as "people from Alabama," Black replied that most of the stereotypes are inaccurate. "There's a strange misconception that it's a trailer park movement, or that it's people who haven't thought through their beliefs. But think about it. Who has the resources to travel across the country for rallies? It's not a wealthy movement, but it's bankers, lawyers, people with good jobs."
This reality, said Muhammad, is no far from that of the 1920s Ku Klux Klan: "Those were upwardly mobile people who saw their effort as a patriotic duty."