Nuclear matters

Glimmer of hope for Yucca Mountain nuclear waste repository project

Over the last twenty-five years, the United States has spent around $15 billion on the Yucca Mountain Nuclear Waste Repository which was supposed to offer a solution to the growing nuclear waste problems at U.S. nuclear power plants; in what some charged was a political move by President Barack Obama to secure Nevada's Democratic tilt, the administration defunded the project, and funding for work on the site was terminated altogether effective with the 2011 federal budget passed by Congress on 14 April 2011; some in Congress want the project to continue, and the House Appropriations Committee has added $35 million for the project in the 2012 energy spending bill; this is far cry from past appropriations for the project — typically around $400 million a year — and even one of the supporters, Representative Mark Simpson (R-Idaho) described it as symbolic gesture; there is also a case now being heard in federal court, in which the administration is charged with overstepping its bounds by cancelling the project without congressional permission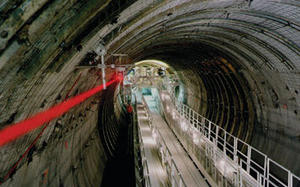 Rear of boring machine showing laser guidance system // Source: agiweb.org
The Yucca Mountain Nuclear Waste Repository was supposed solve the U.S. nuclear waste problem( see "Background" below). After studies which began in 1978, the Carter administration said that Yucca Mountain would be the site for a deep geological repository storage facility for spent nuclear reactor fuel and other high level radioactive waste. The site is on federal land adjacent to the Nevada Test Site in Nye County, Nevada, about eighty miles northwest of the Las Vegas. So far, around $15 billion have been spend on the project so far.
Opposition from environmentalists and Nevada residents notwithstanding, Congress approved the project in 2002. The Obama administration defunded the project, though, and funding for work on the site was terminated effective with the 2011 federal budget passed by Congress on 14 April 2011. Project supporters charged that President Obama made a deal with Senator Harry Reid of Nevada to kill the project in order to ensure Nevada's increasingly Democratic leaning.
Some members of Congress, though, have not given up on Yucca Mountain, and the House Appropriations Committee has added $35 million for the project in the 2012 energy spending bill. This is far cry from past appropriations for the project – typically around $400 million a year – and even one of the supporters, Representative Mark Simpson (R-Idaho) described it as symbolic gesture.
The bill also contains instruction to the Nuclear Regulatory Commission (NRC) to halt the shutdown of work at the site.
The Las Vegas Review-Journal notes that the committee's measure came as House lawmakers were told by federal auditors at a hearing Wednesday that the U.S. policy for managing nuclear waste is up in the air and is becoming "more pressing day by day" after the discontinuation of the Yucca project.
There is also a case now being heard in federal court, in which the administration is charged with overstepping its bounds by cancelling the project without congressional permission.
Representative G. K Butterfield (D-North Carolina) said that ending the program "is the cherry on top of a mismanaged federal exercise."
Background
The volatility of oil prices and environmental concerns led many to consider – or, rather, reconsider – nuclear energy, The last five years so more and more references to a Nuclear Renaissance. Then came the March 2011 Fukushima nuclear scare, and talk about a nuclear rebirth cooled. One example: On Monday Germany became the first large industrial country to announce it was abandoning nuclear power generation altogether,