Cybersecurity

Is Google's Chromebook impervious to viruses?

In a potential blow to the antivirus industry, Google recently announced the release of a series of laptops which the company claims to be so secure that there is no need to buy antivirus software; Chromebooks are designed to run nothing but a browser, which means nothing can be installed on the computer itself; with no executable files to be installed that also means antivirus and the malicious code it protects against have no room on the laptop; but, not all analysts are convinced that Google's Chromebook is as secure as they claim; this move to a cloud based computer could signal a broader shift that could hamper the antivirus industry's future prospects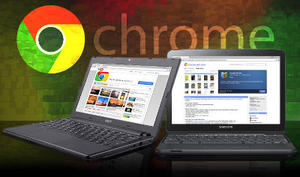 Google launches the Chromebook // Source: digitaltrends.com
In a potential blow to the antivirus industry, Google recently announced the release of a series of laptops which the company claims to be so secure that there is no need to buy antivirus software.
Some analysts believe that the company's claims may be true, but these types of assertions have been made in the past by other companies only to be disproven later much to their chagrin. But analysts believe that Google's machine may in fact be different as the company's Chromebooks are designed to run nothing but a browser, which means nothing can be installed on the computer itself. With no executable files to be installed that also means antivirus and the malicious code it protects against have no room on the laptop.
Charlie Miller, a researcher with Independent Security Evaluators, believes that the laptop's simplistic design could help minimize the threat from malicious code.
Miller explained, "The way you stay persistent [as a hacker] is by installing software. This is designed not to allow any persistence. You turn it off and on and you're good to go."
According to Miller a hacker could exploit vulnerabilities in Chrome, the web browser, but that would only allow data to be accessed during a single session and would disappear the moment the browser closed.
But, not all analysts are convinced that Google's Chromebook is as secure as they claim.
TomsTechBlog.com argues in a blog post that there are several security vulnerabilities that put the Chromebook at risk from malicious code like any other computer.
In particular, the blog points to Google's plans to release a software development kit for programmers to design applications to run on the Chromebook which could potentially allow hackers to introduce malware.
Furthermore hackers can gain information by other means including introducing a virus that would harvest a user's identification credentials allowing hackers to access files freely from Google's cloud networks.
Regardless of how secure the Chromebook actually is, this move to a cloud based computer signals a broader shift that could hamper the antivirus industry's future prospects.
Andrew Jaquith, the chief technology officer at Perimeter E-Security, says that the Chromebook's security model more closely resembles an iPhone than existing computers as it is premised on internal security systems rather than relying on third-party antivirus software. This move puts the onus of security on vendors like Google, Apple, or RIM instead of McAfee or Norton.
Garner Research projects that by 2015 1.4 billion post-PC devices – smartphones, iPads, and now Chromebooks – will be sold, compared to 540 million traditional PCs.
"That's terrible news for security vendors because three-quarters of the market for their traditional products is about to go away," says Jaquith. "That's what happens when you build security in, instead of relying on the market to bolt it on. It's great for customers, and terrible for the security aftermarket."
It remains unclear what the effects these devices will have on the antivirus industry, but software giant McAfee remains optimistic.
David DeWalt, the CEO of McAfee, believes that the company will have a place in the post-PC market helping users to track lost phones, back up their data, and protect them from malware.
"McAfee provides you features to help you locate the phone, recover the phone, manage the phone, backup the phone, restore the phone, all basic things. And what's most important is, we can do it across vendors. We can do it for Apple, we can do it for Google, we can do it for RIM," DeWalt said.
He also points to a recent outbreak of malware on Google's Android platform, which reinforces the need for virus protection companies like McAfee.