First responders

New risk to first responders: chemical suicide

First responders and HAZMAT teams are becoming aware of a new threat: chemical suicide. This new type of suicide is increasing in popularity as a result of instructions being posted on the Internet; the suicide is carried out by mixing household cleaners and detergents to produce a cloud of toxic gas; trouble is, after killing its intended victim, the cloud of gas remains present, threatening to kill those who attempt a rescue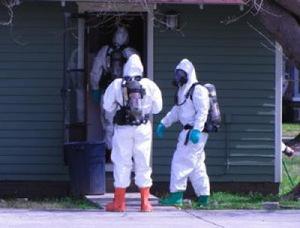 High risk to responders // Source: firespecialops.com
First responders and HAZMAT teams are becoming aware of a new threat: chemical suicide. This new type of suicide poses a deadly threat to first responders. The suicide is carried out by mixing household cleaners and detergents to produce a cloud of toxic gas. Trouble is, after killing its intended victim, the cloud of gas remains present, threatening to kill those who attempt a rescue.
According to an article from FireRescue1.com, the incidence of chemical suicides in the United States has risen from three in 2008 to more than thirty in 2010. It is believed that chemical suicides originated in Japan in 2007 — in Japan, this form of suicide is called "detergent suicide — and have spread around the world, mostly as a result of instructions for mixing various chemicals to produce toxic gases being shared on the Internet.
According to a June article in the New York Times, at least 80 percent of chemical suicides have resulted in injuries to first responders exposed to the gases.
Last year, several Henrico County, Virginia, first responders were hospitalized after arriving on the scene of a woman who killed herself with methyl bromide fumes.