Disasters

"No containment" for Texas wildfires

Published 7 September 2011

Currently there is no end in sight for the wildfires that are raging out of control in central Texas, despite the best efforts of firefighters to contain the conflagrations; "There's no containment right now," said the director of the Texas Forest Service; high winds from Tropical Storm Lee, a severe drought, and a lack of rain have fueled the fire and made it nearly impossible to control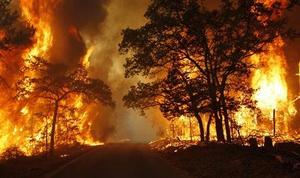 Texas wildfires continue to burn out of control // Source: texasgopvote.com
Currently there is no end in sight for the wildfires that are raging out of control in central Texas, despite the best efforts of firefighters to contain the conflagrations.
So far more than 1,000 homes have been destroyed and over 5,000 residents have been forced to evacuate.
"There's no containment right now," said Tom Boggus, the director of the Texas Forest Service.
High winds from Tropical Storm Lee, a severe drought, and a lack of rain have fueled the fire and made it nearly impossible to control.
"We've been in a defensive mode for a couple of days now, and really all you can do is get people out of the way, protect homes where you can, and make sure our firefighters are safe," said Boggus in an interview with CBS News. "But today, the winds have died down so we can probably be much more aggressive, and we hopefully can get some containment on all these fires in the Austin area."
In a statement, the Texas Forest Service said, "This is unprecedented fire behavior. No one on the face of this Earth has ever fought fires in these extreme conditions."
With little rainfall over the past year in central Texas, wildfires have burned more than 3.6 million acres across the state since December – an area the size of Connecticut. Conditions are expected to remain the same for the time being as there is no forecasted rain any time soon.
"It's hot, dry and windy," said Melanie Stradling, a spokeswoman for the Texas Forest Service. "It's extremely hot on a regular basis, and you've got high winds and heat and lack of rain."
The fires have proven particularly worrisome in Bastrop County, where more than 5,000 people were forced to evacuate. So far fires there have destroyed at least 476 homes, the highest number ever lost in a single Texas fire.
The recent spate of fires has forced Texas governor Rick Perry to leave the campaign trail and return to Texas. Governor Perry said he is uncertain whether he will participate in the first Republican debate since he announced his candidacy for the president given the current situation in Texas.