Blimps / law enforcement technology

Ogden, Utah buys its police a blimp

Published 25 January 2011

The mayor of Ogden, Utah, wants to buy a blimp to help the city police fight crime; Mayor Matthew Godfrey says a blimp is "far less expensive to purchase and to operate than the other UAVs that are out there"; Godfrey envisions using a blimp "largely to patrol," and said that another benefit of the model being developed for Ogden is that its route can be pre-programmed; he also highlights the blimp's "deterrent factor"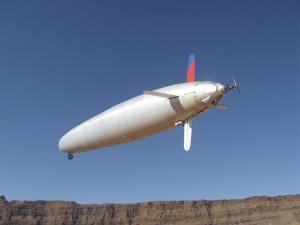 T-Hawk's entry for police surveillance blimps // Source: suasnews.com
The Utah mayor who wants his town to use unmanned blimp to fight crime says that when it comes to the cost of a UAV, there is no beating blimps.
TPM reports that this is not to say that he was born a blimp believer. How Mayor Matthew Godfrey came to believe that his town of Ogden, Utah needs an unmanned aerial vehicle is its own story. Not long ago, Godfrey was at a convention in Denver, trying to recruit companies to move to Ogden. At the convention, he met members of a research group at the Utah Center for Aeronautical Innovation and Design at Weber State University, who are developing unmanned aircraft technologies. The more Godfrey heard about these "really cool technologies," the more he thought Ogden could use a UAV. So he asked the researchers to put together a proposal.
"What they came back with was a blimp," Godfrey told TPM in a phone interview. "My first thought was, 'That's not what I had in mind.' A blimp isn't very stealthy, not very police-like."
Godfrey came to understand, though, that a blimp is "far less expensive to purchase and to operate than the other UAVs that are out there." For example, the Miami-Dade police department is close to finalizing the paperwork to operate a pair of T-Hawk Micro Air Vehicles. "The operating cost is so expensive for those puppies," Godfrey said.
"The value of [a blimp] is remarkable," he said.
Godfrey envisions using a blimp "largely to patrol," and said that another benefit of the model being developed for Ogden is that its route can be pre-programmed. He boasted about an unmanned airship's "deterrent factor." For example, Godfrey said, when crime analysis detects a pattern of crime in a particular neighborhood, a blimp could be programmed to fly there, with the benefit of night vision and four to six hours of endurance.
"When criminals know that there is very likely something above them, it will likely deter crime," Godfrey said.
The community response to his plan has been "mostly positive," Godfrey said, though he acknowledged that there have been some who have raised privacy concerns. He does not consider a blimp radically different from stationary cameras already installed around town, but said that "we're going to make sure that we're well within the lines on this project."
City council members are expected to vote on Godfrey's blimp proposal in a matter of weeks.