REAL ID

As REAL ID looms, states revise driver's license laws

Published 18 February 2011

States must be in compliance by May with the regulations laid out in the 2005 REAL ID Act; the law, a recommendation of the 9/11 commission that investigated the 2001 terror attacks, creates a national security standard for state-issued identification cards to be used for purposes like boarding airplanes and entering federal buildings; REAL ID, originally intended as a counterterrorism tool, has had an unintended side effect that has won support of immigration enforcement advocates — it requires driver's licenses issued to immigrants to expire at the same time as their stay in the United States, invalidating the licenses of immigrants who overstay their visas; states that allow illegal immigrants to obtain driver's licenses are now revising their laws as a federal deadline for REAL ID approaches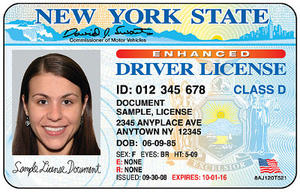 The enhanced license includes an RFID biometrics chip // Source: nytimes.com
The last three states to allow illegal immigrants to obtain driver's licenses — Washington, New Mexico, and Utah — are now steeped in battles to revise their laws as a federal deadline approaches for all fifty states to issue identity cards that meet a new national standard.
States must be in compliance by May with the regulations laid out in the 2005 REAL ID Act. The law, a recommendation of the 9/11 commission that investigated the 2001 terror attacks, creates a national security standard for state-issued identification cards to be used for purposes like boarding airplanes and entering federal buildings.
Fox News reports that REAL ID, originally intended as a counterterrorism tool, has had an unintended side effect that has won support of immigration enforcement advocates — it requires driver's licenses issued to immigrants to expire at the same time as their stay in the United States, invalidating the licenses of immigrants who overstay their visas.
"You are making (it) very difficult for them to assimilate," said Janice Kephart, director of national security policy at the Center for Immigration Studies said of illegal immigrants. "The inability to assimilate plus enforcement will drive a natural attrition over time."
Christian Gleim, director of policy and communications at the Coalition for Secure Driver's License, said the regulations, combined with more than $100 million in grants to states, have already led to "remarkable improvements" in driver's license procedures in more than forty states and Washington, D.C.
"The most important improvements have been in increasing scrutiny of identity claims by applicants," Gleim said. "In addition to making it more difficult for foreign terrorists to get state issued driver's license and IDs, it has made it much more difficult for common criminals to game the system.
As a result, thousands of imposters have been detained by police and hundreds have been prosecuted and convicted."
Not everyone is sold on the idea that "national ID standards" will serve as a deterrent to illegal immigration.
Illegal immigrants "didn't come here for a driver's license," said Ira Mehlman, a spokesman for the Federation for American Immigration Reform (FAIR), who nonetheless praised the move toward tighter driver's license rules but argued it will not fix the broken immigration system.
"One reason why we have such large scale illegal immigration is because we've made it so easy. … We say, 'Don't come to the U.S. but as long as you're here, we'll give you what everybody else has,'" Mehlman said.
Immigration