Mexico: descent into chaos

U.S.: Mexico's drug war posing growing threat to U.S. national security

Published 13 September 2010

The Obama administration sees the drug-related violence sweeping Mexico as a growing threat to U.S. national security and has launched a broad review of steps the military and intelligence community could take to help combat what U.S. officials describe as a "narcoinsurgency"; one problem with increased intelligence collaboration: U.S. agencies have been wary of sharing some intelligence because of concerns that some of their Mexican counterparts may be on the payroll of the cartels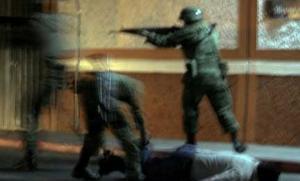 Mexican military during recent battle with cartel // Source: rfi.fr
The Obama administration sees the drug-related violence sweeping Mexico as a growing threat to U.S. national security and has launched a broad review of steps the military and intelligence community could take to help combat what some U.S. officials describe as a narcoinsurgency.
U.S. and Mexican officials say the Pentagon's Northern Command, DHS, and other agencies are discussing what aviation, surveillance, and intelligence assets could be used — both inside Mexico and along the border — to help counter the drug cartels.
Adam Entous and Nathan Hodge write in the Wall Street Journal that officials say it is unclear how much of an expanded American role the Mexicans will accept. The scope of the U.S. effort is expected to grow but it is unclear how much. There is no consideration of sending U.S. troops other than in a training or liaison capacity, people familiar with the matter say.
Interagency talks about ramping up assistance have been discreet to avoid a public backlash in Mexico.
The review, though, is tacit acknowledgment that the Merida Initiative launched in 2008, in which Congress allocated $1.3 billion over three years to help Mexican drug-interdiction efforts, has been insufficient to stem the violence ("GAO: U.S. aid to Mexico's anti-drug efforts needs better oversight," 23 July 2010 HSNW).
Adm. James Winnefeld, head of NorthCom, recently ordered a broad assessment of potential military assistance beyond existing training and information-sharing programs. "The whole interagency [complex] has been asked to look at what more can we do to help our partners in Mexico," he said.
Nearly 23,000 people have died in drug-related violence since 2006, according to the government, with northern border states experiencing the worst of the violence.
Entous and Hodge write that as part of the review, DHS is working with the Air Force to identify the most useful military surveillance technology for monitoring land, sea, and air traffic along the border. U.S. Customs and Border Protection (CBP) spokesman Juan A. Muñoz-Torres said the technologies under consideration include "sensored manned aircraft and ground-based sensors" in addition to unmanned aerial drones. Other officials said ground-based radar used by the military, the most sophisticated of which can be used to identify and track movement over a large area, is also being evaluated.
Officials say the United States has been working to boost Mexican capabilities to monitor cartel leaders' communications and pinpoint their locations. U.S. agencies, however, remain wary of sharing their most sensitive intelligence because of