Piracy

Anti high-seas piracy coalition launches public campaign

"2,000 Somali pirates are hijacking the world's economy" — this is the motto of a new coalition of maritime transportation organization which has launched a public campaign to encourage governments to take more active measures to tackle high-seas piracy; the Save Our Seafarers campaign has a Web site and will take out ads in leading world newspapers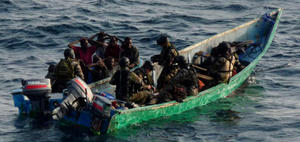 Commandos from the French frigate Le Floreal make arrest // Source: boston.com
All sides of the shipping industry have joined in launching a hard-hitting campaign to harness "people power" to tackle high-seas piracy.
A release from the International Transport Workers' Federation (ITF) says that the "SOS — save our seafarers" campaign was launched on 1 March by the ITF, the Baltic and International Maritime Council, the International Chamber of Shipping, the International Shipping Federation, Intercargo, and Intertanko.
The campaign, which is backed by a comprehensive Web site and advertisements in the world's top newspapers, aims to encourage millions of people to put pressure on their governments to crack down on piracy. The move follows last year's worldwide petition calling on governments to tackle piracy, which attracted almost a million signatures.
The ITF release notes that the campaign highlights the fact that governments around the world do not realize the severity of the piracy crisis that is hitting seafarers and shipping. Somali pirates are currently holding nearly 800 seafarers hostage and are becoming increasingly brutal in their treatment of captives.
The anti-piracy coalition says that because governments hold the key to resolving the crisis, the campaign is making six specific requests on them to take action to eradicate piracy. They include:
Provide greater protection and support for seafarers
Authorize naval forces to detain pirates and deliver them for prosecution and punishment
Criminalize all acts of piracy and intent to commit piracy under national laws in accordance with international conventions
Trace and criminalize the organizers and financiers behind the criminal networks