Law enforcement technology

The art of signature replication

A Rockville, Maryland company's signature replication technology is so advanced, DHS sends its agents there to learn; using sophisticated computer software and its Autopen signing machines, Damilic is capable of replicating signatures that so closely resemble the original hand written version, forensic scientists are needed to be able to tell the difference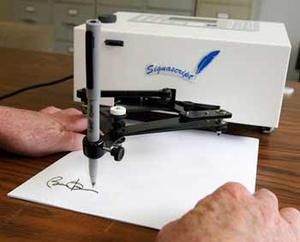 Demonstration of Damilic's autopen // Source: techtunes.com.bd
A Rockville, Maryland company's signature replication technology is so advanced, DHS sends its agents there to learn.
Using sophisticated computer software and its Autopen signing machines, Damilic is capable of replicating signatures that so closely resemble the original hand written version, forensic scientists are needed to be able to tell the difference.
"There are a lot of high quality printers that do impressive work, but if you want it to appear it has been signed by a pen you have to do it by us," boasts Robert Olding, the owner of Damilic. Damilic's client list is heavily shrouded in secrecy, but Olding says, "We get a lot of famous people. It isn't a big thing for us. It is routine."
The company's Autopens are frequently used by university presidents to sign diplomas, celebrities, and even politicians as powerful as the president of the United States.
"When someone makes it big we do wonder how long it will be until we get that signature request," Olding said.
Most recently, while President Obama was abroad in France, he authorized the use of a signature machine to sign a bill that would authorize the extension of certain provisions in the PATRIOT ACT. The move is considered to be the first time a president has used such a technique to sign a bill into law.
Olding is unsure whether Damilic's technology was used by President Obama.
"Whether it was our machine or someone else's, I don't know," Olding said.
Damilic's replicated signatures are so difficult to distinguish from the original that the company goes to great lengths to ensure that its clients are legitimate and not planning on using the machines for any nefarious purposes.
"We do our darndest to be sure we know who we are selling to," Olding said. "People from Homeland Security are like our final quality control department. They come to us as part of their training. They include us in a field trip to come see how the machines work."
Damilic works with roughly 1,000 clients each year. It takes approximately two hours to replicate a signature, but once the software has been programmed, the company will provide the client with a small machine that is capable of writing their signature.