Infrastructure

Building codes increasingly unable to withstand extreme weather

Basic infrastructure around the world has had increasing difficulty in withstanding more extreme weather patterns; with record snow falls in the Northeastern United States, hundreds of roofs have collapsed under the weight of snow and in 2008 heavy snows in China caused 223,000 homes to collapse resulting in $1 billion in insured damages; engineers and insurers worry that current building designs may not be able to withstand more extreme weather patterns; engineers have built more robust safety mechanisms into their designs, but municipal building codes that determine the minimum standard have lagged behind; insurance companies have changed their policies to offer lower premiums to homes that are better built and have refused to insure homes in high-risk areas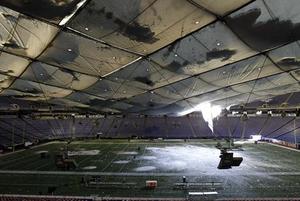 Metrodome roof collapse under 15-inch snow // Source: wegotthiscovered.com
Basic infrastructure around the world has had increasing difficulty in withstanding more extreme weather patterns. With record snow falls in the Northeastern United States, hundreds of roofs have collapsed under the weight of snow showering bystanders with debris and even crushing cows and tractors.
In a high profile case, the Metrodome collapsed after eighteen inches of heavy snow fell in Minneapolis, while in Hungary several weeks of sustained rainfall caused a wall holding toxic red sludge to collapse, sending a torrent of toxic waste into nearby villages. The increasing prevalence of these types of infrastructure failures has engineers and insurers worried. Many believe that global warming is behind the increasing frequency of extreme weather events like floods, storms, and droughts which have strained infrastructure.
According to Munich Re, one of the world's largest insurance companies, weather related incidents serious enough to cause property damage have risen sharply since 1980. The company says that extreme floods and windstorms have approximately tripled, while the number of days with heavy rainfall in South America, North America, and parts of Europe has also increased.
Dr. Peter Hoeppe, the head of Munich Re's Corporate Climate Center, believes that with increases in storms and floods "there is definitely a plausible link to climate change."
Given how buildings, bridges, and other structures are designed, engineers worry that they may not be able to withstand more extreme weather patterns. Currently engineers build structures to survive a "hundred-year storm," the term given to a massive weather event that has a 1 percent chance of happening in a year.
The increasing prevalence of these hundred year storm events has led engineers to debate what types of safety measures they need to build into new designs and whether older structures need to be retrofitted.
D. Wayne Klotz, president of the American Society of Civil Engineers, says, "As we get more extreme events, that absolutely changes how we design."
"We could stick our heads in the ground and say nothing is changing. But it is," he continued.
Klotz, a water engineer in Houston, says that engineers have to plan for the biggest flood or highest winds that are plausible at the time. He has noticed stark differences between the drainage systems that he currently builds and those he built twenty years ago due to significantly heavier storms on the Gulf Coast.
Klotz and his fellow engineers have built more robust structures and safety mechanisms into their designs, but municipal building codes that determine the minimum standard have lagged behind due to the slower pace of lawmaking.
"I'd like to tell you there is a vigorous forum where we've locked arms and are trying to scientifically figure out how to respond to the predictions," said Mr. Klotz. "But there is not yet a concerted effort to change design codes to accommodate them."
The current economy also makes it more difficult to encourage countries, companies, and individuals to invest in more costly construction techniques. Klotz says that raising foundations or building higher dikes is expensive and most owners have a short-term view.
As architects and engineers are struggling to design buildings given the fact that "there's not enough money to design for every eventuality," according to Klotz.
"You try to design for the worst-case scenario. But the question now is, what you can expect?"
In the meantime Munich Re has changed its insurance policies as a result of widespread damage due to extreme weather. Dr. Hoeppe says that in 2008 heavy snows caused 223,000 homes to collapse in China resulting in $1 billion in insured damages.
Munich Re will now offer lower premiums to homes built to resist higher winds. The company has also refused to cover buildings in areas it deems too risk-prone and mandates wider floodplains.