Cities say new FEMA flood maps contain many errors
Published 27 January 2010
In 2004 the Federal Emergency Management Agency (FEMA) started the $200 million-per-year project as a way to utilize advances in mapping technology better to identify areas susceptible to flooding; FEMA officials say the new maps will allow for better zoning and help prevent future catastrophes like the June 2008 flood in Iowa, which caused an estimated $10 billion in damage; cities, developers, and residents say new FEMA flood plain maps are full of mistakes that could prove costly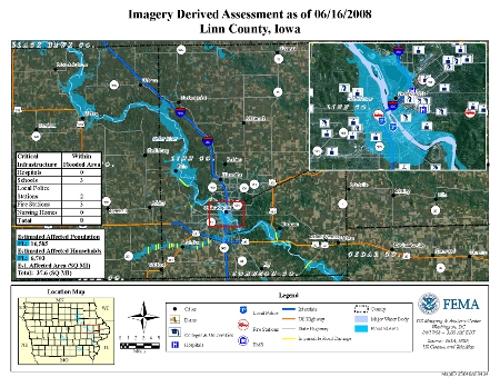 FEMA map of Linn County, Iowa // Source: https://arcims.redcross.org
More than a year and a half after a massive flood left a huge swath of eastern Iowa underwater, the tiny farming community of Oakville is clinging to survival. Many of the town's 400-or-so residents moved on after the June 2008 disaster, leaving local leaders desperate to lure new faces to the community. They say their efforts are being harmed by an ambitious government initiative to update and digitize the nation's flood plain maps.
ABC News reports that the Federal Emergency Management Agency (FEMA) started the $200 million-per-year project in 2004 as a way to utilize advances in mapping technology better to identify areas susceptible to flooding. FEMA officials say the new maps — some of which have won final approval and others which are still in their preliminary stages — will allow for better zoning and help prevent future catastrophes like the flood in Iowa, which caused an estimated $10 billion of damage.
Critics, including civic leaders, developers, and home owners in several states, have complained that the new maps are riddled with inaccuracies, seem arbitrarily drawn, and will stifle growth and hurt property values.
"Anyone building new construction, they are probably not going to settle here," said Oakville mayor Benita Grooms, who is critical of FEMA's proposed map for her town. "Why would they if they have to build their homes up so high and pay $2,000 for flood insurance?"
Doug Boyer, whose home would be in the flood plain for the first time if FEMA's Oakville map gains final approval, said it is inexplicable why FEMA extended the flood plain border to the center of Main Street in the relatively flat town. "The east side is in the flood plain and the west side is fine — it's odd that the water will stop at Main Street," Boyer said.
AP's Michael J. Crumb reports that Garden City, Kansas, has sued to prevent FEMA's proposed map for the city from taking effect. The map for the first time designates areas around two decades-old drainage ditches as flood prone, even though the ditches have never been a problem, said Kaleb Kentner, the city's community development director. Should their challenge fail, the redistricting would force nearly 2,000 homes and businesses into a flood plain and force property owners to buy expensive flood plain insurance, Kentner said.
The proposed digital maps for Linn County, Iowa, are almost unrecognizable, said county planning and zoning director Les Beck.