Racial profiling

TSA facing renewed criticism over racial profiling

Published 30 November 2011

Accusations of racial profiling have triggered renewed criticism of the Transportation Security Administration's (TSA) Screening of Passengers by Observation Techniques (SPOT) program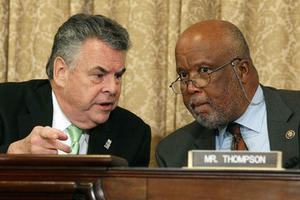 Rep. Thompson confers with chairman Peter King // Source: zimbio.com
Accusations of racial profiling have triggered renewed criticism of the Transportation Security Administration's (TSA) Screening of Passengers by Observation Techniques (SPOT) program.
In a letter to TSA administrator John Pistole, Representative Bennie Thompson (D-Missouri), the ranking member of the House Committee on Homeland Security, questioned the program's effectiveness and procedures after reports surfaced that Behavior Detection Officers (BDOs) at Honolulu International Airport routinely singled out Mexican passengers for document checks, despite showing no suspicious behavior.
Under the SPOT program officers are trained to identify suspicious behavior from passengers that could be indicators for terrorism or criminal activity.
"These allegations have not only underscored my concerns regarding the validity of the SPOT program, but have led me to believe that serious management challenges remain which exacerbate my initial misgivings about the program's legitimacy," wroteThompson in his letter.
In an 8 November report by Hawaii's KITV 4, Honolulu TSA employees accusedBDOs of singling out Mexican travelers under the belief that many would be arrested for immigration violations. The screeners allegedly felt that the high number of arrests would generate the appearance of productivity.
"They are fabricating behaviors. They're making them up — the behaviors don't exist — in order to get to the point where they can arrest these people," said one TSA officer interviewed by KITV 4.
Honolulu BDOs were reportedly nicknamed "the Mexicutioners" by TSA colleagues.
TSA said the allegations are being investigated and Honolulu BDOs will be retrained.
This is not the first time that BDOs have been accused of targeting Hispanic travelers to boost their arrest numbers.
In June the Newark Star-Ledger obtained an internal TSA report which found that some screeners and managers at Newark's Liberty International Airport were targeting Mexican and Dominican passengers in a similar effort to increase arrest numbers.
The Newark group was known as "the Great Mexican Hunters" by colleagues according to the document. As a result of its investigation, TSA demoted one screening manager and retrained all Newark BDOs.
Previous reports have indicated that the SPOT program may not be achieving its goal of identifying threats to national security.
A May 2010 audit by the Government Accountability Office (GAO) revealedthat immigration violations accounted for 39 percent of the 1,083 arrests initiated by the behavior detection program between 2004 and 2008. None of the arrests had any connection to terrorism. The report also stated that "a scientific consensus does not exist on whether behavior detection principles can be reliably used for counterterrorism purposes"
The SPOT program is based on other behavior detection programs, most notably one used by law enforcement at Israel's Ben Gurion International Airport.
In September Pistole responded to a letter from Thompson following the Newark report, stating that "racial or ethnic profiling is not tolerated and that it detracts from the real threat as high risk passengers do not fit any specific profile. If allegations of profiling arise, TSA immediately conducts an investigation and takes corrective action as warranted."
After the most recent allegations, Pistole's previous assurances were not enough to placate Thompson.
"Taken together, these reported actions raise concerns not only about the about the scientific validity of the SPOT program, but also about the training, curriculum and on-site supervision provided to the officers that administer it," he said.
Thompson requested Pistole provide a full account of the program by 16 December.