Surveillance

WikiLeaks "Spyfiles" reveal covert surveillance industry

Published 21 December 2011

Earlier this month WikiLeaks launched its latest campaign, releasing hundreds of documents that reveal the extent of sophisticated surveillance technology that has been used by both oppressive rulers and Western democracies; the more than 287 files expose the work of roughly 160 companies operating in twenty-five countries and their concerted effort to market technology that allow governments or law enforcement agencies to track and monitor individuals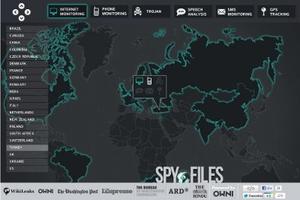 WikiLeaks searchable spy map // Source: voanews.com
Earlier this month WikiLeaks launched its latest campaign, releasing hundreds of documents that reveal the extent of sophisticated surveillance technology that has been used by both oppressive rulers and Western democracies.
The more than 287 files expose the work of roughly 160 companies operating in twenty-five countries and their concerted effort to market technology that allow governments or law enforcement agencies to track and monitor individuals via their mobile phones, e-mail, and Internet browsing histories.
"Today we release over 287 files documenting the reality of the international mass surveillance industry — an industry which now sells equipment to dictators and democracies alike in order to intercept entire populations," said Julian Assange during a press conference to unveil the documents.
Jacob Appelbaum, a former WikiLeaks spokesman and computer expert at the University of Washington, said the documents indicate a frightening change in government surveillance tactics and capabilities.
"These systems that are revealed in these documents show exactly the kind of systems that the Stasi (East Germany's secret police) wished they could have built," Appelbaum said. "These systems have been sold by Western companies to places for example like Syria, and Libya and Tunisia and Egypt. These systems are used to hunt people down and to murder."
The files contain information on companies like Trovicor, a former subsidiary of Nokia Siemens Networks, which supplied the Bahraini government with interception technologies to track human rights activist Abdul Ghani al Khanjar. According to WikiLeaks, government interrogators showed him details from personal conversations before beating him during questioning last winter.
Meanwhile Amesys, a French firm, has come under fire for assisting former Libyan dictator Moamer Gadhafi spy on exiled opposition figures in Britain.
The company supplied Gadhafi's regime with its Eagle system which allows intelligence agencies to intercept e-mails, Webmail, VOIP calls, instant messages, and search engine requests.
In the past, Gadhafi has been accused of harassing Libyans living in exile and even killing opposition leaders.
In defense of its actions, Amesys said Libya had not been under a trade embargo since 2003 and many other French firms had also done business with Gadhafi's regime.
"Amesys delivered the Libyan authorities equipment and had no control over the use to which it was put," the company said.
Security experts involved with the release of the spy documents say they indicate a covert industry that is entirely unregulated.
"Western governments cannot stand idly by while this technology is still being sold," said Eric King, from the Privacy International campaign group.
According to King, in the past ten years the surveillance industry expanded beyond just Western government intelligence agencies like the NSA in the United States and the U.K.'s GCHQ to become a massive international business.