Emergency communication

DHS IG: Cook County communications program botched

Published 12 January 2012

On Monday the DHS Inspector General blasted officials in Cook County, Illinois for mishandling a $45 million federally funded project to upgrade communications equipment for first responders; the Inspector General said the Cook County program, dubbed Project Shield, was fraught with trouble from the start, resulted in equipment that did not work, and potentially wasted millions of taxpayers' dollars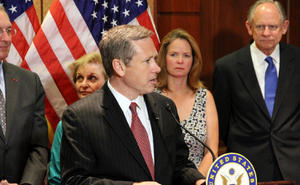 U.S. Senator Mark Kirk calls for criminal probe of Cook County's handling of DHS funds for Project Shield // Source: senate.gov
On Monday the DHS Inspector General blasted officials in Cook County, Illinois for mishandling a $45 million federally funded project to upgrade communications equipment for first responders.
As part of the Urban Areas Security Initiative (UASI), Cook County, the second most populous county in the United States, received federal grants to improve first responders' abilities to capture and share video and data to a command center via wireless-capable vehicles.
The Inspector General said the Cook County program, dubbed Project Shield, was fraught with trouble from the start, resulted in equipment that did not work, and potentially wasted millions of taxpayers' dollars. According to the report, the equipment was never properly tested and thirty-two of Cook County's 128 municipalities never even received the communications gear.
"The project was not implemented effectively and millions of tax dollars may have been wasted on equipment that does not perform as intended," the report said.
Based on a series of visits to fifteen municipalities, government investigators found that many users of the communications equipment did not receive proper training and that the equipment would fail in extreme temperatures, did not work properly with existing equipment, and had only been tested once in 2003.
In addition investigators found missing records and inventory items along with other financial anomalies like the awarding of a noncompetitive contract, which led the Inspector General to conclude that "expenditures were not adequately authorized, supported, and verified."
Following the report's release, in a letter to the FBI, Senator Mark Kirk (R – Illinois) and Representative Mike Quigley (D- Illinois), who previously represented Cook County in various capacities, called for a federal investigation to determine if there had been any criminal activity involved with the program.
"We may have more than just a problem of lackadaisical management," Kirk said. "This program may have been looted by Cook County officials and the prime and secondary contractors."
In response to the report, Rachel Racusen, a spokesperson with the Federal Emergency Management Agency, which oversees the UASI, said, "We take any allegation of ineffective management or potential waste of federal funds very seriously."
"We are actively working to address the problems raised by this report and, based on our own monitoring, we had already frozen remaining funding for Project Shield expenditures last year," she added.
DHS inspectors recommended examining the project further to establish which project costs were reasonable and legal.
The project was officially closed last year by Cook County Board President Toni Preckwinkle after an internal probe.