Immigration

ICE union slows Obama's deportation policy shift

Published 12 January 2012

An internal disagreement within DHS is hampering the implementation of President Obama's new immigration strategy which focuses primarily on deporting immigrants convicted of violent crimes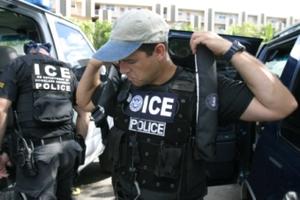 The ICE officer's union has refused to allow its members to participate in new policy training // Source: theamericano.com
An internal disagreement within DHS is hampering the implementation of President Obama's new immigration strategy which focuses primarily on deporting immigrants convicted of violent crimes.
As part of the new strategy, all U.S. Immigration and Customs Enforcement (ICE) officers must undergo a training seminar that emphasizes removing high-risk offenders while stopping the deportation of illegal immigrants with clean records and strong ties to the country.
Nearly all of ICE's commanding officers and prosecutors have taken the half day training course, but the National ICE Council, the union which represents agency's roughly 7,000 immigration officers, has refused to allow its members to participate in the training.
Chris Crane, the president of the National ICE Council, has been a sharp critic of the president's strategy, arguing that Obama's policy essentially requires ICE officials to disregard the law.
Testifying before the House Judiciary subcommittee last October, Crane accused Obama of pandering to Latino groups for political gain.
"Law enforcement and public safety have taken a back seat to attempts to satisfy immigrant advocacy groups," Crane said.
DHS officials have said that the seminar was critical to implementing the president's strategy, but without the union's approval, the new policy is likely to become bogged down in labor negotiations which could last for months.
Originally when DHS rolled out the training seminars last November, officials had planned to have all of its officers take the course by 13 January, a deadline it will now miss.
Crane's criticisms have largely been backed by Republican lawmakers like Representative Lamar Smith (R- Texas), the chair of the House Judiciary Committee, who called the president's immigration plan "backdoor amnesty."
Meanwhile, in defense of the policy, DHS Secretary Janet Napolitano has said that her agency only has enough resources to deport 400,000 immigrants a year as it costs at least $23,000 per case. According to Napolitano, shifting ICE's focus to removing violent illegal immigrants is simply the best use of limited resources.
For instance in the training, ICE agents are asked what to do if a young illegal immigrant had been handed to them by state authorities for driving without a license. In the scenario, she had been living in the United States since 1993 and has an infant son, an American, but she had lied to ICE officers, covering up a shoplifting conviction from 1995.
In this case, officers should close her deportation case as she poses no criminal threat and could still be nursing her American baby.
In another training scenario, ICE agents are asked what to do with an Asian Pacific man who has been a legal resident in the United States since 1984 and has served two tours in Iraq. The man is currently serving out a six-year prison sentence for a federal sex-trafficking felony.
Under new ICE guidelines, the man should be deported, despite his military service, because of his serious criminal history.
John Morton, the head of ICE, was careful to note that illegal immigrants who have their deportation closed are still in "legal limbo" as their cases are not canceled, can easily be reopened, and they have not been granted legal immigration status.
It is unclear how much support Crane has from ICE field agents as many officials have reported that agents generally approve of the recent focus on high-profile anti-crime operations against foreign street gangs, drug dealers, and sex offenders.
Chris Shanahan, the field director of New York City's ICE office, said, "Our folks understand that we have limited resources and we have to focus more than ever on our priorities."
Shanahan added, "What I see from my officers is that they understand that criminal aliens and national security threats should be taken into custody and removed before a single mother, a pregnant woman or someone with small United States citizen children."