Facility security

Smithsonian balances security and openness – is it safe?

Published 6 February 2012

Following the 9/11 attacks security officials worried that the Smithsonian Institution with its millions of visitors and stores of valuable national treasures would be an ideal target for terrorists, yet the institution has done little to bolster security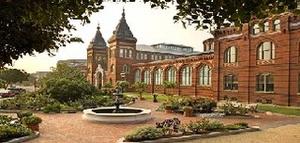 The Smithsonian's entry security could best be described as lax // Source: .livejournal.com
Following the 9/11 attacks security officials worried that the Smithsonian Institution with its millions of visitors and stores of valuable national treasures would be an ideal target for terrorists, yet the institution has done little to bolster security.
Museum officials have stated that guards have been instructed to prioritize access to ensure the expedited entry of the 19 million individuals who visit the museums each year. As a result, guards do not regularly monitor the metal detectors and only turn them on at random times. Furthermore only five museums — Air and Space, American History, American Indian, Natural History, and Postal – even have metal detectors installed."They are not on full time," said Linda St. Thomas, a spokeswoman for the Smithsonian. "We want to do a thorough check, but we also want people to get into the building."
When the detectors are not operational, security guards are instructed to perform a "thorough but speedy hand-check of all bags."
In defense of the security policy, St. Thomas said randomly turning on the metal detectors added an additional layer of security.
"Random is actually a form of security because people don't know when a test will be done, or people don't know when it's on, so it's random intentionally," she said.
Some security experts agree that the randomized approach strikes the right balance between security and access.
"By having the randomness, nobody knows what they're going to be doing, how extensive, when or where they're going to be doing it," said Lynn Mattice, a senior fellow at George Washington University's Homeland Security Policy Institute. "By deploying methodologies that are sound practices and allow the flexibility of an organization like the Smithsonian to have randomness allows them to really meet both sides of the spectrum and keep it into an environment that is inviting for people to want to come to."
Meanwhile James Carafano, an expert on homeland security at the Heritage Foundation, said he agrees with the random screening approach, but also noted that the Smithsonian's many museums are still vulnerable due to their openness and accessibility.
"Most of the security at the Smithsonian is kind of nonsensical," Carafano said. "It's like security at mass transit: It doesn't really work. You can't have good security and control access like that."
Highlighting the security risks facing museums, in 2009, an eighty-eight year-old man entered the Holocaust Museum wielding a rifle and fatally wounded a security guard before being shot himself.