Law–enforcement technology

Thermal imaging proves useful for police

Published 7 February 2012

With the help of sophisticated new thermal imaging systems police officers around the United States have been able to apprehend criminals and locate car crash victims in perfect darkness without a hitch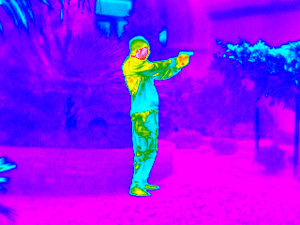 Thermal image reveals gunman in firing position // Source: x20.org
With the help of sophisticated new thermal imaging systems police officers around the United States have been able to apprehendcriminals and locate car crash victims in perfect darkness without a hitch.
"It's a really good tool, and it's an officer safety thing," said Lieutenant Vince Wallis of the Yellow Stone County Sheriff's Office in Montana.
In January a couple reported an attempted break in where the suspect damaged a pickup truck before fleeing under cover of darkness to escape police as they arrived. Police were able to quickly apprehend the suspect thanks to thermal imaging gear.
In the complete dark of night, officers were able to remain undetected as they did not have to turn on any spotlights. Instead they turned to their thermal image sensors which can clearly display the features of a person's face or the undercarriage of a car in pitch-black conditions to locate the suspect.
The technology displays an image of the night in blacks, whites, and grays by picking up heat signatures by reading infrared radiation.
In 2010 with the help of a $197,000 DHS grant, the Sheriff's office purchased eight thermal-imaging units at $5,000 per unit from Flir along with forty-two Noptic units at $4,200 apiece for every patrol car.
"You have coverage almost all of the time," Wallis said. "The good thing is we've got them on every car. I'm pretty sure the deputies use them nightly."
The Noptic units are mounted on a patrol car's spotlight on the driver's side and can rotate 360 degrees, sending a clear live video feed to the vehicle's onboard computer.
Wallis said the thermal units have proven particularly helpful on numerous occasions including search and rescue, tracking suspects, identifying recently driven vehicles, surveillance, locating dropped evidence, and vehicle crash investigations.
"We've already used it for quite a few things," he said.
Last March a drunk driver crashed his vehicle and fled the scene, hiding in the woods before cops arrived. But with the use of their thermal cameras, sheriff's deputies were able to find him after they noticed a bright spot on a hilly area near a cluster of homes. After focusing on the area for some time, the spot moved, indicating somebody had poked their head out of their hiding spot.
Meanwhile in May of last year, two women died in a fatal car accident when their vehicle plunged off the Zimmerman Trail. Rescue workers were only able to find one of the victims initially, but with the aid of thermal-imaging, were able to locate the second.
"I think as time goes on we'll find more and more uses for them," Wallis said. "They're great because there really isn't a range with these things. If there's a plane flying above you and it's clear, you can spot the plane."