Hackers

Anonymous retaliates, takes down Interpol site

In retaliation for the arrest of twenty-five suspected members of the hacktivist collective known as Anonymous, the group briefly took down Interpol's website on Tuesday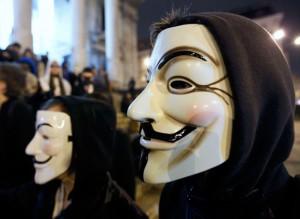 Anonymous strikes again, this time taking down Interpol // Source: remolachamusic.net
In retaliation for the arrest of twenty-five suspected members of the hacktivist collective known as Anonymous, the group briefly took down Interpol's website on Tuesday.
The Guardian reports that suspected hackers were arrested in Argentina, Chile, Colombia, and Spain as part of Interpol's Operation Unmask, which was launched mid-February following a series of coordinated cyberattacks originating from the four countries that targeted sites like the Colombian Defense Ministry, Chile's national library, and the Colombian president's homepage.
"This operation shows that crime in the virtual world does have real consequences for those involved, and that the internet cannot be seen as a safe haven for criminal activity, no matter where it originates or where it is targeted," said Interpol's acting Executive Director of Police Service Bernd Rossbach.
As part of the arrests, authorities have seized roughly 250 items including mobile phones, servers, and computers in raids on forty homes across fifteen cities. In addition, payment cards and cash were also confiscated as part of the investigation into the funding of illegal activities.
Earlier this month Anonymous released sensitive details from Combined Systems, a tactical weapons company that has sold tear gas canisters and other munitions to governments across the Middle East, on the one-year anniversary of the Arab spring movement in Bahrain. The hackers also leaked a recording of a phone call between the FBI and British authorities, much to their chagrin.