Iran

Iran could test-fly ICBMs capable of striking U.S. within three years: Pentagon

A Pentagon report submitted to Congress on 29 June says Iran continues to make large strides in virtually all conventional, unconventional, and nuclear categories; the report focused most extensively on Iran's inventory of ballistic missiles, and warned that Iran may be able to test-fly an inter-continental ballistic missile (ICBM), capable of striking American soil, within three years' time; Iran also continues to supply men, money, training, and even sophisticated weapons systems to some of the world's best-known terror groups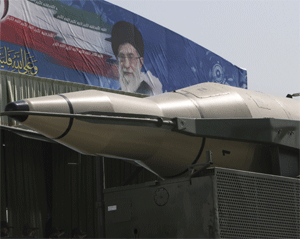 Iran moves toward ICBM development // Source: nti.org
An unclassified report offers details about the impressive growth of Iran's military capabilities. The report was first obtained by Bloomberg. It was prepared in April and sent by Defense Secretary Leon Panetta to four congressional committees on 29 June. It describes the large strides in virtually all conventional, unconventional, and nuclear categories.
"Iran's principles of military strategy remain deterrence, asymmetrical retaliation, and attrition warfare," the report said. Fox News reports that the report focused most extensively on the regime's inventory of ballistic missiles, already the largest in the Middle East, and warned that, with foreign assistance, Iran may be able to test-fly an inter-continental ballistic missile (ICBM), capable of striking American soil, within three years' time.
"Iran has boosted the lethality and effectiveness of existing [missile] systems with accuracy improvements and new submuntion payloads," which allows missiles to drop explosives over a wider area causing more destruction, according to the report.
"During the war games [conducted by Iran last week], long-range, medium-range and short-range missiles will be used and will be fired from different points across the country," which an Iranian spokesman said was designed to test the precision and efficiency of the warhead and missile systems.
The report said regular ballistic missile training continues throughout the country, and that Iran continues to develop missiles that can hit Israel and Eastern Europe, including an extended-range Shahab-3 and a medium-range ballistic missile, called the Ashura, that can fly more than 1,200 miles.
The report repeats what has been stated publicly by the United States, that over the last twenty years Iran has "placed significant emphasis on developing and fielding ballistic missiles," that could threaten the United States, coalition and partner countries around the Middle East and to project power in the region.
The report also maintains that Iran is still capable of testing a long-range intercontinental ballistic missile by 2015, "with sufficient foreign assistance."
Defense analyst John Pike noted that the missile defenses the United States had begun to field in southern and eastern Europe are not fully operational. "You know 2015 is very soon. Certainly if you believe the 2015 forecast, Iran would have that ballistic missile before the United States has a defense against it," Pike, weapons expert at GlobalSecurity.org, told CNN.
The rapid development by Iran of long-range missile capabilities struck other analysts as especially noteworthy, because such a capability, if matched with the ability to produce a nuclear warhead that could be fitted onto the ICBM, would effectively make Iran a nuclear-armed power.
"This report talking about an intercontinental ballistic missile being flight-tested possibly as soon as 2015 just adds another reason why we need to settle [the international dispute over Iran's nuclear program] sooner rather than later," weapons expert David Albright of the Institute for Science and International Security in Washington told Fox News. "I would assess that they have the intention to build a nuclear weapon, but they have not made a decision to do so."
The Panetta report also says that Iran has continued with its longstanding support for Mideast terror groups, saying Tehran continues to supply men, money, training, and even sophisticated weapons systems to some of the world's best-known terror groups: Hamas, Hezbollah, the Palestinian Islamic Jihad, and the Taliban, among others.