Movie controversy

DHS, FBI warn of the "risk of violence" in wake of movie controversy; movie producer's identity revealed

Published 14 September 2012

The FBI and DHS yesterday issued a Joint Intelligence Bulletin which warned faith-based organizations in the United States and U.S. embassies abroad that "the risk of violence could increase both at home and abroad as the film continues to gain attention"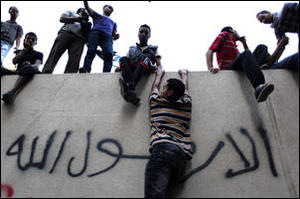 Protestors scale the wall of the U.S. embassy in Cairo // Source: sina.cn
The FBI and DHS yesterday issued a Joint Intelligence Bulletin which warned faith-based organizations in the United States and U.S. embassies abroad that "the risk of violence could increase both at home and abroad as the film continues to gain attention."
"First responders should remain aware of the potential for spontaneous large crowds and protests that could overwhelm resources and should be vigilant for possible efforts to encourage peaceful protesters to commit acts of violence," the intelligence bulletin said.
ABC News quotes the bulletin to urge "faith-based organizations to promptly report suspicious activities that could indicate pre-operational plotting against Jewish, Coptic, Islamic, or any other faith-based communities."
The bulletin warned that "violent extremist groups in the United States could exploit anger over the film to advance their recruitment efforts."
The bulletin goes on to note that angry protests in Benghazi, where four Americans were killed, and Cairo "mirror past incidents prompted by events perceived as anti-Islamic, which spurred sudden violence against U.S. interests overseas."
The movie producer's identity
More details are now known about the producer of the movie. In a conversation with Wall Street Journal reporter, the producer presented himself as a 52-year old Israeli-born California real estate developer named Sam Bacile. He said he was Jewish, and that movie was funded by donations from 100 American Jews who, together, put up the $5 million movie budget.
Each one of these claims is false.
The producer is a 56-year old Egyptian Christian Copt named Nakoula Basseley Nakoula, from Cerritos, California. He has a long rap sheet for various frauds. He spent two different stints in jail, each for about one year, the last one in 2009 for bank fraud. The Los Angeles Sherriff Office says Nakoula has used many aliases in his long criminal career, among them: Mark Basseley Youssef, Yousseff M. Basseley, Nicola Bacily, and Malid Ahlawi. These names were all listed as aliases in the 2009 bank fraud indictment. Other court documents listed additional aliases used by Nakoula, among them: Thomas J. Tanas, Ahmad Hamdy, and Erwin Salameh.
He raised the money for the film from Christian Copts in Alexandria.