Disaster preparation

New York unprepared for flooding, sea level rise

Published 24 September 2012

New York City may be a fast paced city of bright lights, sleek attitudes, fashion trends, and some of the best sports teams in the country, but underneath the glitz and glamour is a city which is not prepared for an act of God and which is being threatened by rising sea levels and severe storm flooding; "It's a million small changes that need to happen," one expert says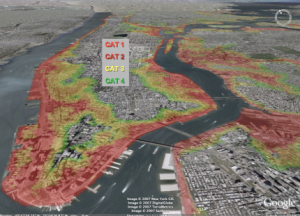 NYC map shows projected flooding under different hurricane categories // Source: unavueltaalamanzana.com
New York City may be a fast paced city of bright lights, sleek attitudes, fashion trends, and some of the best sports teams in the country, but underneath the glitz and glamour is a city which is not prepared for an act of God and which is being threatened by rising sea levels and severe storm flooding.
Mayor Michael. Bloomberg has responded by tasking experts to research the effect of climate change on the city, expanded wetlands, and installed green roofs to absorb rainwater.
The New York Times reports that despite these efforts, critics say New York is moving too slowly address the possibility of flooding which could destroy transportation, drive people from their homes, and threaten the financial district.
Hurricane Irene cased panic in the city last year as the subway system was shut down and 370,000 people were evacuated from their homes. The hurricane eventually was reduced to a tropical storm, sparing the city, but the city's lack of preparation and the absence of contingency and mitigation plans were obvious for all to see.
"They lack a sense of urgency about this," Douglas Hill, an engineer with the Storm Surge Research Group at Stony Brook University, on Long Island, told the New York Times.
Since Irene, new buildings have been elevated and others are going above current required flood protections. A new recycling plant in Brooklyn and the Port Authority's transit hub at the World Trade Center site are just two of the examples, but the majority of new construction is not being outfitted to protect against floods.
City officials think that at this point it is easier to plan for the city to be flooded and make sure people are safe by making sure the city has everything in place to deal with an excessive amount of water.
Consolidated Edison, the company that provides electricity to most of the city, estimates that installing submersible switches and moving transformers above ground would cost at least $250 million, which it does not have. Instead the company is making gradual adjustments, spending just short of $24 million improving flood zones 2007.
Critics not only find this idea unacceptable, but they charge that when it comes to flooding, Manhattan receives preference over the other four boroughs.
"A lot of attention is devoted to Lower Manhattan, but you forget that you have real industries on the waterfront, elsewhere in the city," Eddie Bautista, executive director of the New York