UAVs

Technology soon to make drones deadlier, more autonomous

Published 27 September 2012

Unmanned aerial vehicles (UAVs) have become America's main weapon in the campaign against terrorists — at the forefront are the Predator and the Reaper — and technological changes would soon make them even deadlier; in the next decade drones will be faster and carry more weapons than today's versions; they will also have better sensors and more sophisticated computers, allowing them to plan and execute attacks with little human participation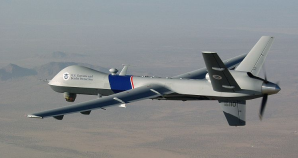 Drones like the Reaper will become more autonomous and deadlier // Source: wikipedia.org
Unmanned aerial vehicles (UAVs) have become America's main weapon in the campaign against terrorists — at the forefront are the 27- foot Predator and the 36-foot long Reaper — and technological changes would soon make them even deadlier. Alaska Dispatch reports that in the next decade drones will be faster and carry more weapons than today's versions. They will also have better sensors and more sophisticated computers, allowing them to plan and execute attacks with little human participation.
"Advances in AI (artificial intelligence) will enable systems to make combat decisions and act within legal and policy constraints without necessarily requiring human input," the Air Force stated in its 30-year plan for drone development.
The Air Force said it is working to loosen those policy constraints, clearing a path for smarter, more dangerous drones.
Some are worried about these developments. They fear that the advances in technology will remove the human element from decision making and planning, and that, more generally, advancements in technology are moving too fast, leaving no time to assess the moral ramifications of advanced killing methods.
John Brennan, the top counterterrorism advisor to President Barack Obama, thinks citizens will embrace new technology as the war on terror continues."I think the American people expect us to use advanced technologies," Brennan told the audience at an April speech at the Woodrow Wilson International Center for Scholars in Washington, D.C."They can be a wise choice because they dramatically reduce the danger to US personnel, even eliminating the danger altogether," Brennan said.
An Air Force planning document from 2011 shows the current force of around 250 armed drones more than doubling in the next decade.
Today's military UAVs debuted in the mid-1990s, and their use has grown dramatically since the 9/11 attacks. Today, in addition to being used by the military in intelligence gathering and operational missions, drones are being used in border patrol, weather surveillance, and are already engaged in law-enforcement missions by several police forces around the country.
Critics argue that the increase use of drones in campaigns against militants has been accompanied by an increase in the killing of innocent civilians. According to a count by the U.K. Bureau of Investigative Journalism, since 2004 at least 2,800 people were killed in about 375 U.S. drone attacks in Pakistan, Yemen, and Somalia. Hundreds of the people killed were innocent bystanders.
Today's drones, lethal as they are, are still technologically limited.