Fiscal cliff

Deal would delay by two months $110 billion in automatic spending cuts

The deal agreed on by Senate minority leader, Mitch McConnell (R-Kentucky), and Vice President Joe Biden, and which was passed in the Senate in the early hours of New Year's Day, would also delay, by two months, the $110 billion in automatic spending cuts which were set to go into effect on 3 January2013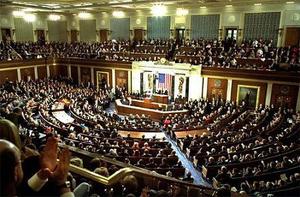 Congress votes to avoid fiscal cliff // Source: milhome.com.cn
As we go to press, the House has not yet voted on the deal which was agreed on by Senate minority leader, Mitch McConnell (R-Kentucky), and Vice President Joe Biden. The deal was passed in the Senate in the early hours of New Year's Day.
The measure would prevent hundreds of billions of dollars in tax increases for nearly 99 percent of Americans. The bill would also delay, by two months, the $110 billion in automatic spending cuts which were set to go into effect on 3 January2013. The delay in the automatic cuts would be paid for with spending cuts elsewhere. These cuts are yet to be specified.
The United States also reached its debt limit on Monday, and the Treasury said it was taking "extraordinary measures" to put off a default by the United States. Congress has until late February or early March to raise the ceiling. If it does not, the Treasury will be unable to pay all of the country's bills.