E-Verify finds only one out of two illegals
Published 26 February 2010
E-Verify was launched to allow employers to verify the legal status of job applicants; a study done for DHS finds that the program is ineffective: the inaccuracy rate for unauthorized workers at about 54 percent, meaning that one in two illegal workers makes it through the screening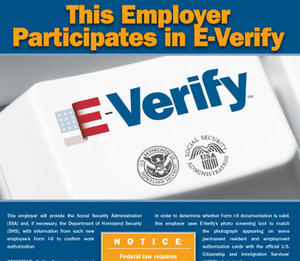 Half as effective as expected // Source: washingtonindependent.com
The U.S. government's E-Verify program to detect illegal workers has an "inaccuracy rate" of about 54 percent, outside consultants have determined. An evaluation of E-Verify carried out for DHS by a Maryland firm found the program allows "many unauthorized workers" to obtain employment, the Wall Street Journal's Louise Radofsky and Miriam Jordan writee that reported Thursday.
Westat of Rockville, Maryland, said E-Verify is not able to confirm whether information workers are presenting is their own. As a result, Westat says, "many unauthorized workers obtain employment by committing identity fraud that cannot be detected by E-Verify."
It put the inaccuracy rate for unauthorized workers at about 54 percent. Westat's report, submitted to DHS in December, has received little public attention, the Journal's writers said. UPI reports that all federal contractors are required to enroll in E-Verify within thirty days of being awarded a government contract. At least ten states use the system to check eligibility of state workers.