Middle East unrest

Gaddafi solidifies control in west, will turn east next

Published 24 February 2011

Libyan ruler Col Muammar Gaddafi appears to have won the battle to retain control of Tripoli and areas in western Libya, while anti-government protesters consolidated gains in the east and foreigners continued to flee; the anti-regime protesters have now seized control in the Cyrenaica region, which contains the three port cities of Benghazi, Al Bayda, and Tobruk — but Gaddafi, with what appears to be the continuing loyalty of the military, will now be free to turn on them in an effort to re-take the region; with no outside intervention likely, Gaddafi is going to win this bloody battle at a high cost to those who stand in his way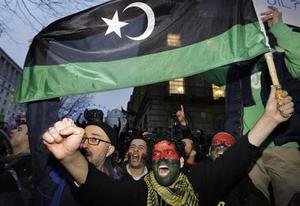 Libyan demonstrators with pre-1969 flag // Source: msn.com
Libyan ruler Col Muammar Gaddafi appears to have won the battle to retain control of Tripoli and areas in western Libya as protesters consolidated gains in the east and foreigners continued to flee.
Much of the capital is deserted as pro-Gaddafi gunmen roam the streets, with reports of uprisings in western towns such as Misurata, Sabratha, and Zawiya.
At least 300 people have died in the country's uprising. Col Gaddafi's son, Saif al-Islam Gaddafi, went on television on Wednesday evening to say that everything was "normal," Reuters reported.
"The ports, schools and airports are all open," he said. "The problem lies in the eastern regions. Life is normal. Brothers, Libyans should come together in this national battle."
The BBC reports that eyewitnesses in Tripoli said that the city was virtually closed, with many people hoping protesters and defecting soldiers would arrive from the east to help them.
A text message had been sent out by government officials telling civil servants and other workers to return to their jobs but many people are too scared to go on to the streets.
One Tripoli resident said: "I hope residents don't go to work - this can be our way of a peaceful protest - we will all stay at home indefinitely."
There were reports of gunmen opening fire on Tuesday morning on a queue of people at a bread shop in the Fashloum district, where there has been a heavy military crackdown, with three people killed.
Two naval gunships are reported to have been deployed facing the city.
A Tripoli citizen told BBC Arabic that the only people on the streets were police, soldiers, and African mercenaries but that the opposition was in touch with cities in the east that had fallen to protesters and a march was planned for the capital on Thursday.
Another Tripoli resident said: "Anti-government protesters have disappeared. The streets are quiet. There are many, many deaths."
The resident also said doctors were reporting gunmen shooting people in hospitals.
Information from Libya is currently difficult to verify and reports cannot often be independently confirmed.
The BBC's Paul Danahar on the Tunisian border says unconfirmed reports suggest several towns between the border and Tripoli have seen anti-government protests but the roads in between are held by people loyal to Col Gaddafi.
Troops are said to have been sent to Sabratha after demonstrators burned government buildings, according to the Quryna news Web site.
The pre-Gaddafi Libyan flag was also reportedly raised in Zawiya, thirty miles west of Tripoli while other unconfirmed reports said protesters had seized control of Misurata, 200 kilometers east of Tripoli, after days of fighting.
One Tunisian man who crossed from Libya told our correspondent there was no law in the country and added: "God help them".