First responders

Growing suicide trend poses risk to first responders

Published 24 January 2011

In a growing trend, people in the United States are increasingly using dangerous chemicals to commit suicide; this trend puts first responders at risk by exposing them to deadly chemicals; in 2008 a Japanese girl released fumes that sickened ninety people in a chemical suicide attempt; responding to these suicide attempts is also costly as hazmat team materials are expensive to replace and removing contaminated vehicles requires hiring a private company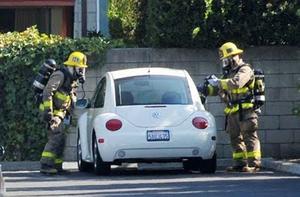 Responders at hazmat suicide scene // Source: incidentcommander.blogspot.com
People in the United States are increasingly committing suicide by using dangerous chemicals and endangering the lives of first responders and the community at large.
On Saturday, 15 January 2010, Somerset, New Jersey first responders came to the rescue of a man who had mixed household chemicals to create hydrogen sulfide in a suicide attempt.
First responders were lucky that the man had posted a sign on his truck alerting them to "call hazmat," saving them from exposure to deadly chemical fumes.
Sgt. James Shaw, Somerset police station commander said that this practice of using dangerous chemicals puts first responders in "grave danger."
Hydrogen sulfide is a toxic acid that is colorless and smells like rotten eggs and is lethal when inhaled in large doses.
"[First responders] have to practice safety. They must survey the scene from afar. Look inside the vehicle. Are there any containers?" said Shaw.
An emergency aid worker's first response is often to help people immediately, but they will have to learn to temper this natural reaction.
Shaw explains, "If we had rolled up to a vehicle along the side of the road, we would think: 'Break the glass. Someone's having a heart attack.'"
Doing so, however, could put first responders at risk by exposing them to dangerous chemicals.
Instead, first responders will now have to assess if a person is still conscious and able to open the vehicle door. Even then, emergency workers are still at risk as the person may have dangerous chemical residues on their clothing or body. In the event that they do, responders must call the hazardous material team.
"There is a risk in everything we do," Shaw added.
In April 2008 in a chemical suicide attempt, a Japanese girl
released
fumes that sickened ninety people. This trend has swept across Japan with 500 people committing suicide by mixing household chemicals in 2008 alone.
In the United States this trend has begun to take hold with several reported cases each year beginning in 2009.
Somerset police chief Randy Cox, said, "This is the first we've experienced, but according to the literature this is a national trend."
Other than putting first responders at risk, rescuing people who attempt to commit suicide by chemicals is costly. In the Somerset case, Hazmat teams had to use expensive one-time use supplies, while officials had to call a private company to seal and remove the contaminated vehicle.
"We will go to the individual or his insurance company for restitution, which will be in the multi-thousand dollar range," Cox said. "Taxpayers shouldn't have to pay for it."
The Somerset police, fire department, and hospital are currently reviewing their tactics for dealing with these emergency situations.