Eavesdropping

India bans Nokia push e-mail devices until govt. surveillance is allowed

BlackBerry's maker RIM complained that the Indian government singled out its popular smartphone for harsh regulatory treatment because of the phone's e-mail encryption which prevented Indian law enforcement services from snooping on e-mails of people suspected of involvement in terrorism or crime; now the Indian government is considering putting a hold on the sales of Nokia devices with push e-mail until monitoring systems were in place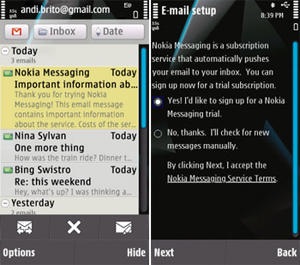 Nokia push e-mail setup screen // Source: dailymobile.se
BlackBerry smartphones are not the only ones that have to worry about getting keeping access in India. There were discussions between the Home and Telecom ministries about placing a hold on the sale of Nokia devices with push e-mail until monitoring systems were in place. This is part of a new standards compliance being imposed on local carriers in India so that government agencies can lawfully intercept telephone numbers, device identities, e-mail addresses, IP addresses, and keywords in real-time. Nokia representatives in India said they have not heard about this, but that they say they aim to meet government demands wherever they do business.
Intomobile reports that contrary to RIM's complaints about its dealings in India, it appears that BlackBerry is not being singled out. The government of India wants to be able lawfully to intercept communications themselves, but they are also touchy about others having the ability, as evidenced in this statement from the Department of Telecommunications from the end of December. "Although this is primarily directed at individuals and companies unlawfully intercepting cell phone transmissions, it does leave me to wonder how well the Indian government looks upon seemingly-altruistic companies like RIM and Nokia, Intomobile notes.
Nokia will eventually be making the switch to Windows services, "but I imagine the need to be able to intercept data sent through the services would remain, and I doubt Microsoft's push e-mail set-up is so different than Nokia's that it would immediately meet the government of India's needs," the Intomobile's writer concludes.