Law enforcement technology

Jails turning to full body scanners

Cook County Jail in Chicago recently installed four full-body scanners to help improve security; officials say that the body scanners have enabled officers to better detect contraband items, hidden away in body cavities, and reduced the need for strip searches; the machines are located in the jail's two maximum security areas as well as the initial processing area; officials say they plan to begin using body scanners at the Cook County courthouse to scan detainees before they enter the courtroom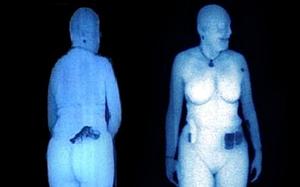 Keeping weapons and contraband out of jails // Source: avvo.com
Body scanners are no longer just for airports. Cook County Jail in Chicago recently installed four full-body scanners to help improve security.
The machines were first installed last November in the jail's two maximum security areas as well as the initial processing area.
Officials say that the body scanners have enabled officers to better detect contraband items, hidden away in body cavities, and reduced the need for strip searches. Cook County sheriff Tom Dart said, "This will now allow us to ensure that virtually no (strip) searches will go on because the machine does it for us."
"I'm trying to take the human component out of this completely," he said.
In the United Kingdom, prisons began using body scanners in 2007 to detect mobile phone smugglers who had hidden away contraband in body cavities.
David Hanson, the prisons minister at the time, said, "It is a valuable tool towards identifying mobile phones being brought into prisons."
The Cook County Jail is using the same model of scanners at airports, the L-3 ProVision Whole Body Imager, which recently came under fire for being too revealing. Law enforcement officials said that the jail scanners were less revealing than airport scanners, but also acknowledged that levels of privacy were different because this was a prison facility.
"There were some issues with what the L-3s were showing, but this is a jail. Someone's in here on a serious case. Are there different levels of personal privacy you have? Absolutely you do. Even though it may have shown some parts of the body that people would prefer not to, this is a jail," Dart said.
The jail first began using body scanners as a result of a class action lawsuit that was filed over its use of strip searches in 2006. The County Board chose to settle the lawsuit out of court paying $55.3 million to roughly 250,000 inmates who had endured strip searches in degrading conditions over a five year period.
In 2008 a federal judge ruled that the jail's policy of strip-searching inmates who had been ordered released from custody was unconstitutional.
Local law enforcement officials say they plan to also begin using body scanners at the Cook County courthouse to scan detainees before they enter the courtroom.