L.I. homeland security research center to get $1 million from DHS
Long island's Morelly Homeland Security Center to receive $1 million in earmarks in DHS Appropriations Act; the center aims to adapt next-generation technologies to be used by first responders in case of a terrorist attack or natural disaster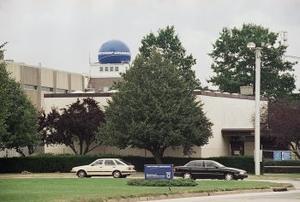 The former Northrop Grumman Bethpage plant is now the Morelly Homeland Security Center // Source: longislandpress.com
The Morelly Homeland Security Center in Bethpage, a new public-private research and development lab, showed off some of its wares last Thursday as one of Long Island's congressional representatives announced that the center is expected to get an infusion of federal funding that will help bring on more researchers.
U.S. Rep. Steve Israel (D-Huntington) said $1 million is earmarked for the center in DHS Appropriations Act. Long Island Press's Amanda Marzullo writes that the funds will create up to fifteen jobs at the center's Homeland Security Research, Development and Manufacturing Consortium, which aims to adapt next-generation technologies to be used by first responders in case of a terrorist attack or natural disaster.
The 90,000-square foot center would also double as a "command and control" hub in the event of a major disaster in New York.
"We are at constant risk of attack," said Israel. "We have to use all the tools in our tool box to protect ourselves."
The recent Times Square bomber shows that the New York area is still at the risk of a terrorist attack. "This facility is an important way to continue developing technologies to improve our security, while supporting jobs and businesses in our community," Israel said.
A $2 million federal investment helped start the center, located at a former Northrop Grumman site where scientists built the spacecraft that carried men to the moon. The center is run by the not-for-profit Long Island Forum for Technology, which partners with local companies, organizations, universities, and the National Laboratory Systems.
The first company to begin conducting research in the lab, Balfour Technologies, demonstrated its patented fourDscape technology, a browser that integrates data from disparate sources — such as security cameras and floor plans — and presents it in one virtual scene that allows users to gain perspective. The goal is to load this technology onto mobile units and other devices to provide easy access for first responders in times of need.
"It can't be too difficult to use," said Dr. Robert Balfour, chief technology officer. Researchers are not only working to make the technologies user-friendly, but also make them less costly and better suited for mass production.
After the demo, Israel said, " This really puts Long Island on the map."