Trend

Market for first responders, law enforcement robotics to see robust growth

Market for first responders and law enforcement robotics reached $203.1 million in 2009; it is anticipated to reach $3.7 billion by 2016; market growth will come as border patrols and law enforcement agencies use robots to achieve broader security in a less expensive manner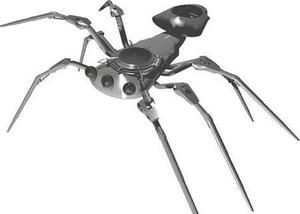 BAE robotic ant // Source: geekologie.com
Aarkstore's latest report, titled "First, Responder, Homeland Security, and Law Enforcement Robots Market Shares, Strategies, And Forecasts, Worldwide, 2010 To 2016," says that the world-wide market for first responders and law enforcement robotics is poised to achieve significant growth as the first responder and homeland security ground robots are used globally. Growth will come as border patrols and law enforcement agencies use robots to achieve broader security in a less expensive manner, delivering the promise of automated process in yet another industry.
The report says costs of robots are expected to decrease rapidly in the next year, creating a much larger market than exists now. The current market at $203 million does provide a significant base for solid growth.
First responder robots cost $50,000 and up, which is about the cost of a person for one year. A person can patrol and investigate, but a first responder robot able to sniff for explosives is not justified in large quantities. The report says that sharing robots among different agencies would allow a few units go a long way in detecting explosives.
The report says that first responder and homeland security robots are useful as patrol units. Just as foot police and patrol cars look for dangerous situations, so also a first responder robot can patrol an area with cameras and chemical sensors. "First responder and homeland security robot automation of the defense process is the next wave of first responder and homeland security evolution," the report says. As automated systems and networking complement the Internet, communication is facilitated on a global basis. The first responder and homeland security charter is shifting to providing protection against terrorists and people seek to maintain a safe, mobile, independent lifestyle. Much of the first responder and homeland security mission is moving to adopt a police force training mission, seeking to achieve protection of civilian populations on a worldwide basis.
According to Susan Eustis, the lead author of the study, "the purchase of First responder and homeland security Robots s is dependent on budget constraints. The use of First responder and homeland security Robots s is based on providing a robot that is less expensive to put in the field than a trained soldier. That automation of process has appeal to those who run the first responder and homeland security."
Robots are automating first responder and homeland security ground systems, permitting vital protection of police officers and people in the field, creating the possibility of reduced fatalities in this profession.
The report notes that innovation coming from all the vendors is astounding. One vendor, BAE Systems has an ant-size robot useful for reconnaissance and networking robots in development. As soldiers take up secure positions behind a wall, they deploy a small reconnaissance "ant" team. Some hopping, some flying, the stealthy autonomous reconnaissance squad vanishes into a suspicious building for several minutes, then relays information back to its human partners.
Use of remote-control toys in Iraq started as improvised robots to check out possible roadside bombs. There has since been a flurry of activity on the robotic explosive ordnance disposal (EOD) front.
The emergence of a market for intelligent, mobile robots for use in the field and the confined areas of city fighting thus presents many opportunities, especially as robotic research is on the fast track for government spending.