Pervasive surveillance

Minority Report comes to Leon, Mexico

Leon, Mexico, a city of one million, has began implementing an iris scan biometric system from New York-based Global Rainmakers; the system, rolled out across the city; anyone taking money out of an ATM, paying for items in a store, or simply catching a bus will have their eyes scanned by hi-tech sensors; criminals will automatically be enrolled, their irises scanned once convicted; law-abiding citizens will have the option to opt-in; the company's CEO believes people will choose to opt-in: "When you get masses of people opting-in, opting out does not help. Opting out actually puts more of a flag on you than just being part of the system. We believe everyone will opt-in"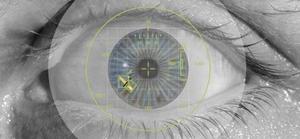 Reference points for iris recognition // Source: switched.com
A biometrics company is set to roll out iris recognition technology across an entire city in a move that would create a Minority Report-like society in which anyone taking a train or shopping in a department store will have their eyes scanned by hi-tech sensors.
New York-based Global Rainmakers Inc. (GRI) has announced that it will use the technology to begin creating what it claims will be "the most secure city in the world" in Leon, one of Mexico's largest cities.
Fast Company's Austin Carr reports that the move will see GRI's eye swipe machines, which come in a variety of different shapes and sizes, hooked up to a huge iris database created in conjunction with Leon law enforcement authorities. "In the future, whether it's entering your home, opening your car, entering your workspace, getting a pharmacy prescription refilled, or having your medical records pulled up, everything will come off that unique key that is your iris," Jeff Carter, CDO of GRI told Carr.
"Criminals will automatically be enrolled, their irises scanned once convicted. Law-abiding citizens will have the option to opt-in," Carr writes.
Carter is confident that everyone, whether a criminal or not, will soon be hooked into the database: "Every person, place, and thing on this planet will be connected [to the iris system] within the next 10 years," he says.
Steve Watson writes in Prisonplanet.com that in Carter's vision of the future, anyone taking money out of an ATM, paying for items in a store, or simply catching a bus will have to stare directly into the system while "Police officers will monitor these scans and track the movements of watch-listed individuals."
Carter even alludes to Philip K. Dick's Minority Report, noting that the system will operate to a degree even more controlling than in the cult classic dystopian story:
"Fraud, which is a $50 billion problem, will be completely eradicated," says Carter. Not even the "dead eyeballs" seen in Minority Report could trick the system, he says. "If you've been convicted of a crime, in essence, this will act as a digital scarlet letter. If you're a known shoplifter, for example, you won't be able to go into a store without being flagged. For others, boarding a plane will be impossible."
Watson writes that the first phase of the Leon plan encompasses placing the machines in law enforcement facilities, security check-points, police stations, and detention areas. The second phase will see the technology integrated into public locations across the city.
Carter does not believe that his company's biometric system represents a major step toward the creation of a Big Brother society. "The banks already know more about what we do in our daily life — they know what we eat, where we go, what we purchase — our deepest secrets," he says. "We're not talking about anything different here–just a system that's good for all of us."
Carter also believes that people would not object o being enrolled in the system "There's a lot of convenience to this — you'll have nothing to carry except your eyes," says Carter, claiming that consumers will no longer be carded at bars and liquor stores. Then there is also this: "When you get masses of people opting-in, opting out does not help. Opting out actually puts more of a flag on you than just being part of the system. We believe everyone will opt-in."
The city-wide iris scanning scheme is not only about security, Carter says. He speaks of tailoring the technology to "enable advertisers to track behavior and emotion" by scanning people's eyes from when they look at a billboard to when they enter a store and purchase the product (note that such a system is already operating in Japan; see "Here's looking at you: Tokyo digital billboards scan passers-by," 20 July 2010 HSNW):
"In ten years, you may just have one sensor that is literally able to identify hundreds of people in motion at a distance and determine their geo-location and their intent — you'll be able to see how many eyeballs looked at a billboard," Carter says. "You can start to track from the point a person is browsing on Google and finds something they want to purchase, to the point they cross the threshold in a Target or Walmart and actually make the purchase. You start to see the entire life cycle of marketing."