Infrastructure protection

Napolitano: hackers "came close" to shutting down critical infrastructure

Published 28 October 2011

On Thursday DHS Secretary Janet Napolitano revealed that hackers have "come close" to shutting down parts of the nation's critical infrastructure; at a press conference Napolitano stated that hackers have attempted to infiltrate financial systems, transportation networks, and other key elements of U.S. critical infrastructure, making cyberattacks on these facilities one of her top concerns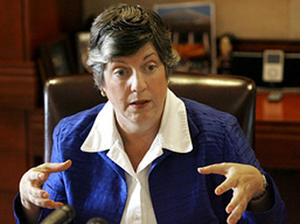 Napolitano reveals hackers' nearl disruption of nation's infrastructure // Source: itacidentityblog.com
On Thursday DHS secretary Janet Napolitano revealed that hackers have "come close" to shutting down parts of the nation's critical infrastructure.
At a press conference Napolitano stated that hackers have attempted to infiltrate financial systems, transportation networks, and other key elements of U.S. critical infrastructure, making cyberattacks on these facilities one of her top concerns.
"It could theoretically cause a loss of life, but also a huge economic loss," she said. "We've seen attempts on Wall Street, transportation systems, things of those sorts."
With the growing need to defend critical computer networks, Napolitano stressed the importance of creating a strong national and international regime to effectively handle cyberattacks.
"One of the problems we have is that the current international regime, international law, international rules of conflict … really have not been developed with cyber," Napolitano said.
In addition the Senate has yet to pass a comprehensive cybersecurity bill that would authorize DHS to take the lead in securing the government's networks as well as assisting the private sector in building cyber defenses.
The legislative session is quickly winding down for the year, but Napolitano remained optimistic that the Senate would pass the cybersecurity bill this year.
"If there's any area of international concern that the Congress is going to move on this session, it's going to be cyber," Napolitano said, stating that Congress has expressed "an urgency" to address the issue.
Regardless of whether the Senate passes the bill or not, Napolitano said DHS would continue to informally take the lead on cybersecurity through its series of informal agreements. In particular the agency has been following the structure outlined in President Obama's Cybersecurity Policy Review, which was released in 2009.