Identity theft

Puerto Rico overhauls birth-certificate systems; will annul 5 million birth certificates

More than 40 percent of all passport fraud cases in the United States start with a stolen Puerto Rican birth certificate; identity thieves have targeted Puerto Ricans because Puerto Rican names provide the perfect cover for Hispanic illegal immigrants entering the United States and are worth as much as $6,000 on the black market; the documents are so valuable that drug addicts trade them for a fix; the Puerto Rican government has decided to change all that: current Puerto Rican birth certificates will no longer be valid after 30 September; between now and then, all Puerto Ricans will have to apply for more secure birth documents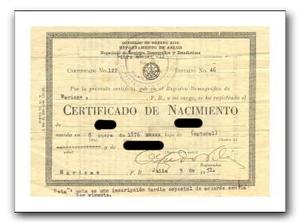 Puerto Rico will annul and replace birth certificates such as these // Source: emergentchaos.com
Easy-to-obtain Puerto Rican birth certificates are a hot commodity among identity thieves. The Puerto Rican government has decided to do something about it: All Puerto Ricans born before 1 July will need to apply for a more secure replacement before the old birth certificates are voided on 30 September.
Over the weekend, the Puerto Rican government granted a 3-month extension for invalidating the certificates from 1 July to 30 September, but the cutoff date for voided documents still applies to those issued on or before 30 June, according to
The Providence Journal
.
Matthew Harwood writes that starting Thursday, the island will begin issuing security-enhanced birth certificates. More than five million natives of the territory, 1.4 million of whom live inside the continental United States, must now reapply for the new birth certificates under a Puerto Rican law passed in December in collaboration with the U.S. Departments of State and DHS.
Harwood notes that the move does not eliminate an unknown number of fraudulent but valid passports and drivers' licenses acquired using stolen documents and currently circulating throughout the United States. According to the Associated Press:
The law only aims to make it harder to get false documents in the future, but does nothing to target those already in circulation. And a person holding a stolen birth certificate could conceivably apply to receive one of the new ones, which will have special seals and be printed on counterfeit-proof paper — though they would have to present other personal data that they might not have, McClintock said.
According to Allentown, Pennsylvania's the Morning Call, 40 percent of all passport fraud cases start with a stolen Puerto Rican birth certificate.40 percent of all passport fraud cases start with a stolen Puerto Rican birth certificate.
Identity thieves have targeted Puerto Ricans because their names provide the perfect cover for Hispanic illegal immigrants entering the country and are worth as much as $6,000 on the black market. The documents are so valuable that drug addicts trade them for a fix, the AP reports, while a Puerto Rico-based FBI agent said he worries these documents could be used by terrorists.
There is another reason why Puerto Rican birth certificates are sought after: the territory does not have a culture of document protection, which its government admits. "In the past, many common official and unofficial transactions in Puerto Rico unnecessarily required the submission, retention, and storage of birth certificates," a factsheet (.pdf) on the law states.. "As a result, hundreds of thousands of original birth certificates were stored without adequate protection, making them easy targets for theft."
"I saw my mom giving out certified copies of my birth certificate for many situations — registering me at school, signing me up for summer camp," Luis Balzac, regional director of the Puerto Rico Federal Affairs Administration (PRFAA) in New York, told Pennsylvania's Reading Eagle Press. "For a sport like volleyball or baseball, she would provide a true copy of my birth certificate to the coach."
The government now faces the challenge of alerting Puerto Ricans inside the United States to the need for new birth certificates. "The Puerto Rican government didn't have a plan to tell people, especially on the mainland," Angelo Falcon, president of the National Institute for Latino Policy, told the Morning Call. "It was like we didn't exist."
Puerto Rico has not made applying for a new birth certificate an emergency. "It is important to understand that there is no need to rush out and get a new birth certificate on July 1," according to the PRFAA Web site. "It is suggested that only people who have a specific need for their birth certificate for official purposes need request a new birth certificate right away."
The
U.S.
Defense Department will also now require new Puerto Rican service members to have the new certified birth certificate to enroll for military benefits. Current service members will be encouraged to get new birth certificates but will not be required to do so to continue receiving benefits,
reports the American Forces Press Service
.
Harwood notes that the identity theft epidemic almost got at least one person arrested. Puerto Rico native Jose Marrero Rivera learned his identity was stolen when police came his food stand at Luis Muñoz Marín International Airport near San Juan to arrest him for a car theft, according to the AP. "All the information, all of it, the driver's license, the Social Security, my address, was mine," he said of the warrant. "I was shocked. I told them simply that it wasn't me."