Ray guns

Ray gun runs at full power for six hours

Published 10 December 2010

Laser weapons are potentially very powerful, but until now they had one major drawback: All the earlier versions of the weapon were essentially giant rocket engines that burned chemical fuels and reached impressive powers; some even shot down test missiles; all of them, however, only ran for seconds at a time, and needed special fuels that would have created nightmares for battlefield logistics; a new Northrop Grumman ray gun has now run at full power for more than six hours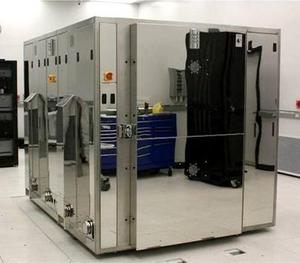 Northrop's 100 kilowatt laser unit // Source: nextbigfuture.com
A 100-kilowatt solid-state laser that Northrop Grumman demonstrated for potential weapon applications eighteen months ago has now fired at full power for more than six hours. For those who follow laser weapons and know how they would be used on the battlefield, this is impressive.
The United States has built and demonstrated several lasers in the 100 kilowatt to megawatt class since the 1970s, most recently the Airborne Laser. All the earlier were essentially giant rocket engines that burned chemical fuels and reached impressive powers. Some even shot down test missiles. All of them, however, only ran for seconds at a time, and needed special fuels that would have created nightmares for battlefield logistics.
New Scientist reports that field commanders instead asked the Pentagon to develop a solid-state laser weapon, which could run on electric power from diesel generators. The Joint High Power Solid State Laser program sought a laboratory test bed that could fire 100 kilowatts for five solid minutes. Northrop Grumman met that goal last year; Textron Systems met it this year with their own design.
Operating repeatedly at 100 kilowatts or more for over six hours is a first. Demonstrating this kind of prolonged usage is necessary because optical damage is a major concern at such high powers. It is very likely that some device components have been replaced, but any damage has not been catastrophic enough to require a complete rebuild. This is an important step forward.
Still, NS notes, it has a long way to go. Lasers deployed on the battlefield will be required to be ready to run 24/7, and must be able to keep running during a sustained attack. We are many years from that point.
"The next step will be integrating the laser with a pointing and tracking system at Northrop Grumman's factory in Redondo Beach, California. Then it will be shipped to the Pentagon's High Energy Laser Systems Test Facility at White Sands Missile Range in New Mexico for field testing," New Scientist concludes.