Border security

Report finds Texas border violence worsening

Published 29 September 2011

A recently released report concludes that violence from the Mexican government's war against the drug cartels is increasingly spreading into the United States; the report found that as the Mexican military cracks down further on drug cartels, these organizations have pushed further north into Texas to create a "sanitary zone"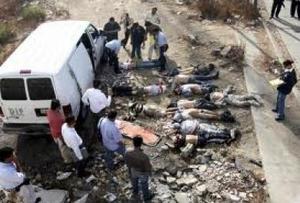 Mexican violence frequently spills over into U.S. border states // Source: julienews.it
A recently released report concludes that violence from the Mexican government's war against the drug cartels is increasingly spreading into the United States.
"The U.S. border is increasingly insecure and farmers and ranchers are intimidated. Hundreds of people have been murdered on our side of the border," said retired General Barry McCaffrey, one of the report's co-authors.
The report, titled "Texas Border Security: A Strategic Military Assessment" and co-authored by retired General Robert Scales, found that as the Mexican military cracks down further on drug cartels, these organizations have pushed further north into Texas to create a "sanitary zone."
These zones "provide sanctuary from Mexican law enforcement and, at the same time, enable the cartels to transform Texas' border counties into narcotics transshipment points for continued transport and distribution into the continental United States," the report said. "To achieve their objectives the cartels are relying increasingly on organized gangs to provide expendable and unaccountable manpower to do their dirty work."
The report went on to call Texas border counties "a war zone in which civil authorities, law enforcement agencies as well as citizens are under attack around the clock."
As a result, "some Texas farmers and ranchers have even abandoned their livelihoods to move their families to safer ground."
At a press conference held on the report's release, Representative Michael McCaul (R – Texas), called on the federal government to recognize the fact that the Texas border was more dangerous than ever.
"When we have the administration testifying that it's never been more secure, and we have a president basically saying mission accomplished in El Paso. It's not mission accomplished, we have a lot of work to do," McCaul said.
He added, "These drug cartels are here. They're in San Antonio, they're in Austin, they're in Houston, they're in Dallas. And their commanding control operations are here. And what we need to prevent at all costs, is the level of violence that we're seeing in Mexico."
In contrast, DHS Secretary Janet Napolitano has publicly stated that the border is more secure than ever.
McCaul, a member of the House Homeland Security Committee, said he plans on presenting the report to his committee in Washington.
The study was originally commissioned by the Texas Department of Agriculture and the Texas Department of Public Safety.