Surveillance

Security cameras to be installed at all DC metro stops

In response to a rash of crimes near Washington, D.C.'s metro stations, local authorities recently announced plans to install security cameras outside all eight-six train stations; the Metro Board's Safety and Security Committee released a report several weeks ago that found that last year the number of thefts and robberies had hit five-year highs; the Board has purchased 153 color cameras thanks to a $2.8 million DHS grant; with violent crimes around the Metro on the rise, more residents have begun to push for the installation of security cameras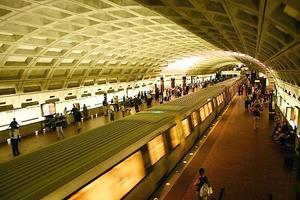 Security cameras to be deployed in the Metro system // Source: homeaway.com
In response to a rash of crimes near Washington, D.C.'s metro stations, local authorities recentlyannounced plans to install security cameras outside all eight-six train stations.
The Metro Board's Safety and Security Committee released a report several weeks ago that found that last year the number of thefts and robberieshad hit five-year highs.
The Board has purchased 153 color cameras thanks to a $2.8 million DHS grant. Metro Transit Police chief Michael Taborn said, "All of the cameras will act to alert us to activities taking place. Now we're in the position to make our customers and employees safer day by day."
Lisa Farbstein, a spokeswoman for the Metro, said the cameras are scheduled to be installed over the next six to twelve months.
Metro Police are particularly concerned with teens loitering outside Metro stations as they are responsible for more than 25 percent of the crimes committedlast year, an increase of about 10 percent from 2009.
Last March a group of teens is believed to be responsible for the stabbing of a twenty-three year old man outside the Gallery Place-Chinatown station.
With violent crimes around the Metro on the rise, more residents have begun to push for the installation of security cameras.
In August more than 300 College Park residents signed a petition demanding security cameras be installed near the Metro station after a young woman was sexually assaulted there.
Jeffrey McKay, a Metro Board member, said he was most concerned about "end-of-the-line stations" where commuters often leave their cars and bikes unattended for long periods of time.
Despite these concerns, Maryland chose not to install the cameras last year when the DC Metro installed twenty systems outside rail stations.
For two years in a row, three Maryland stations – Greenbelt, Branch Avenue, and New Carrollton – have topped the list for serious crimes.
McKay has supported calls to recruit volunteers to help patrol Metro stations.
He said, "We live in a region rich with law enforcement retirees who care about this system. I think we could find a lot of support, and I think there is a great wealth of opportunity. I think this should be a topic of discussion at a meeting with other law enforcement agencies."